In our blog of work from home tips, we outlined some of the ways the employees at Pure Visibility have set up a successful work from home routine by doing things like setting regular hours, creating a dedicated work zone, and taking frequent breaks.
This advice has helped us keep our minds sharp as we telecommute, but working from home can affect more than our mind. With so much of our time now spent indoors, we've had easy access to the kitchen and likely spent more time off our feet — and that can have a significant effect on our physical health. According to Mayo Clinic, "Any extended sitting — such as at a desk, behind a wheel or in front of a screen — can be harmful. An analysis of 13 studies of sitting time and activity levels found that those who sat for more than eight hours a day with no physical activity had a risk of dying similar to the risks of dying posed by obesity and smoking."
So what do we need to do to stay healthy when we work from home? Here are some tips:
5 tips to stay fit and eat healthy when telecommuting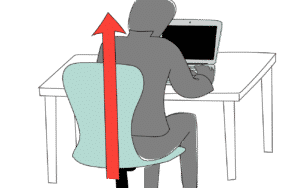 Make long-term changes for work from home health
Many of us don't know when we'll be able to safely return to our offices. We're in this for the long haul and should adjust our habits accordingly. Whether we're eager to resume or commute or would like to make our work from home lifestyle more permanent, it's good to set healthy habits now.
Want more tips on working from home? Check out our work from home survival guide here.