Property management is a highly competitive industry, particularly in local markets like college towns. It can be difficult to cut through the clutter with a pay-per-click (PPC) campaign in these situations, especially with a limited budget.
This is where PPC consultants who have the expertise to maximize a campaign's potential can make a big impact. An expert can optimize a mediocre campaign to perform its best, with simple strategic tweaks, rather than a complete overhaul.
Why PPC is important
PPC is a digital marketing tactic that is used to drive more qualified traffic and sales in a short period of time, with online ad platform(s) that charge by the click. When you consider that 15% of all web traffic coming from paid search advertising, it's easy to see how a well-optimized paid campaign can help you increase your online visibility and "own"more of the search engine results page.
Visibility is especially important for property management companies, who tend to compete in highly competitive local markets. Keywords related to housing, including apartments and rentals, can have a high cost-per-click (CPC), so campaigns that target these terms should be carefully optimized to make the most of your ad spend.
Read our post on how PPC and SEO work together to own page one.
Optimizing a successful PPC campaign
University Towers apartments turned to Pure Visibility for help "breaking through the noise" with Google Ads. Although this property management company had seen modest success running their own digital advertising campaigns during the previous year's peak season, they now faced increased competition from new student-focused rentals in a cutthroat college-town market. It was time to optimize their campaigns and take their PPC efforts to the next level.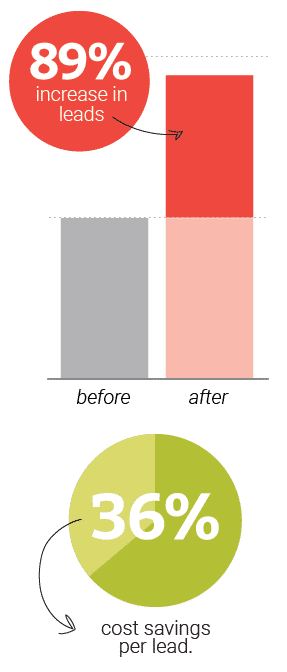 Our PPC consultants took on the challenge and began to strategically optimize University Towers' Google Ads. To make the most of the company's limited budget, we improved copy and refined targeting to focus on the highest-value prospects. This ensured money was spent where it had the biggest impact.
Once these optimized campaigns were up and running, Pure Visibility adjusted bids in response to market cues and eliminated overspends to improve return. We continued to enhance campaign effectiveness throughout the engagement by monitoring ad performance and using A/B test formats.
In just a few months, our expertise had paid for itself with an 89% improvement in leads over the previous year, and a 36% cost savings per lead.
Strategic optimization can maximize your PPC potential
Even companies in competitive markets can find success with PPC when they properly optimize their campaigns. When you target your highest-value prospects and closely monitor your campaign performance, you can spend less per lead and drive more traffic to your site—even with a limited budget.
To learn more about our expertise with digital advertising, visit our page on PPC.