Working from home (WFH), also known as telecommuting, is becoming increasingly popular in the United States; one survey found that "43% of Americans work from home occasionally." And with the spread of COVID-19, many employers are making the shift to a remote workforce.
As a company that has had a flexible work environment since day one, the Pure Visibility team has many working from home tips for helping your marketing team stay productive. But one of the biggest recommendations we could make is to find the right telecommuting software to meet your marketing team's needs. From video conferencing to messaging, work from home software is essential to staying connected and collaborative while working remotely.
We've highlighted some of the top telecommuting software for meetings, documents, and team chat below, including helpful insights into the pricing structure.
Our telecommuting software must-haves
Video conferencing
Video conferencing software allows you to join a meeting from almost anywhere. You can run productive meetings from the comfort of your home, whether you're screen sharing a monthly report with your clients or gathering your team for a weekly stand up.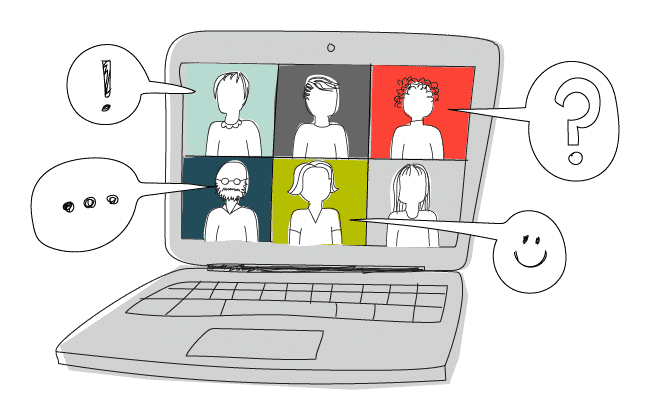 When looking at video conferencing software, you should consider the size of your team, ease of use, and the clarity of audio and video. It's also good to look at the features available through each provider and decide whether it's necessary for your operation. For example, do you want the option to host webinars? How many participants will you have in each meeting? Do security features need to be HIPAA compliant?
Knowing the answers to these questions will make it easier for you to narrow down your options and find the right video conferencing software for your team. Here are some of the top video conferencing platforms:
Zoom
Zoom offers enterprise video conferencing with HD audio and video, streamlined scheduling, and built-in collaboration tools. A basic package is available for free and has a 40-minute cap to meetings, while paid plans start at $14.99 per month for small teams and vary based on the number of hosts, participants, and features. Zoom is our favorite video conferencing tool and the one we use at Pure Visibility for meetings as well as SEO training and PPC workshops.
Microsoft Teams
Previously labeled as Skype for Business, Microsoft Teams "combines instant messaging, video conferencing, calling, and document collaboration into a single, integrated app." A free plan is available with limited meeting features, while paid options are more robust and start at $5 per user per month.
WebEx
Cisco Webex "is an enterprise solution for video conferencing, online meetings, screen share, and webinars." You can get a fairly robust personal plan for free, or invest in a paid plan that starts at $13.50 per month per meeting host. Like most other telecommuting software, higher priced plans come with additional features, like additional participants and more storage.
GoToMeeting
GoToMeeting is an online meeting and web conferencing tool offering one-click meetings and solutions for administrators. Its free option allows you to meet for 40 minutes with up to 3 participants. Paid plans start at $12 per month per meeting organizer and include additional features and higher participant limits.
Google Hangouts Meet
Google Hangouts Meet is available through Google's G Suite, which includes features like Gmail for business, shared calendars, cloud storage, and documents collaboration. Hangouts Meet allows you to "connect with your team from anywhere," with "easy-to-join video calls." G Suite pricing is based on number of users per month and available applications and starts at $6.
You can learn more about the top video conferencing tools in this article.
Collaborative documents
The best online document collaboration software tools make it easy for your team members to work together on marketing collateral and other writing projects. When evaluating this software you'll want to be on the lookout for secure file storage and real-time editing, as well as general ease of use for your team.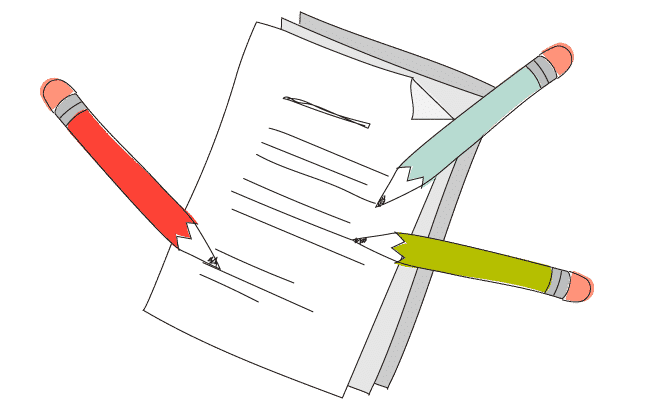 Google Docs
Google Docs allows you to "write, edit, and collaborate wherever you are." It is included in all G Suite editions, which range from $6 to $25 per user per month based on available applications and security and management features. At Pure Visibility we rely heavily on G Suite to keep our team collaborative, no matter where we work.
Zoho Docs
Zoho Docs "is an online file management tool that lets you store files securely, share them with friends, and sync them across all your devices." It is free for up to 5 users, and has two paid options starting at $4 per user per month.
Microsoft Office 365
With Microsoft Office 365, you can "easily attend meetings online, share Office files, co-author in real time, and be productive from anywhere." The pricing for business plans is calculated by users per month, and starts at $5, depending on the services, features, and Office apps included. At this time there is no free option.
Notion
Notion for notes & docs allows you to comment, collaborate and share. You can organize your writing with drag-and-drop functionality. A free option is available but limits the number of "blocks" of content you can create. Paid plans start at $4 for an individual plan, and offer unlimited blocks, file uploads, and additional features. At Pure Visibility, we use Notion for our editorial calendar and company wiki.
Messaging
Messaging apps let you reach members of your team instantly with direct messages and group discussions. Many marketers prefer messaging over email for keeping conversations organized and easy to follow.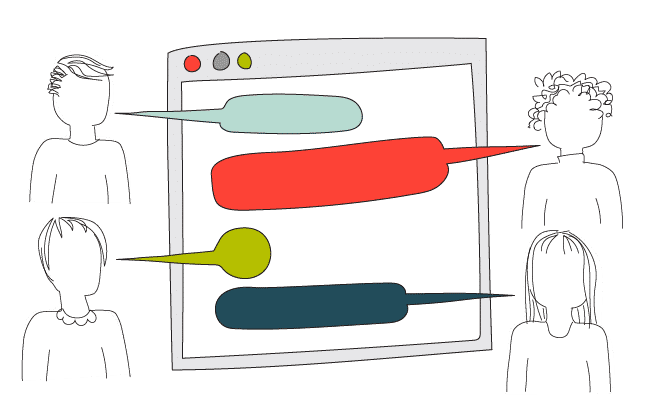 Slack
Slack organizes your conversations into dedicated channels that can be shared with partners or clients for additional collaboration. There is a free version of Slack, as well as paid plans priced starting at $6.67 per person per month. At Pure Visibility, our team is constantly using Slack, whether at home or the office, to stay connected.
Zoho Cliq
Zoho Cliq allows you to use video calls and screen sharing in its searchable conversation channels. There is a free version and an unlimited version, which offers additional features starts at about $1 per user per month.
Microsoft Teams
In addition to its video conferencing features mentioned above, Microsoft Teams also offers functionality for group chats and one-to-one conversations. A free plan is available with limited features, while paid options are more robust and start at $5 per user per month.
Flock
Flock "organizes all your conversations, productivity tools, and apps in one place," with features like messaging, video chat, file sharing, and mailing list management. It has one free version and paid plans from $4.50 per month that vary by features.
Google Hangouts Chat
Google Hangouts Chat has direct messages and group conversations with dedicated virtual rooms. As part of G Suite, pricing is based on number of users/month and available applications and starts at $6.
Learn more about these business messaging apps here.
Marketing and sales
In addition to these telecommuting tools, you may also want to consider marketing-specific software to help streamline the work from home process. We recommend using a tool like Messente for SMS marketing, SEMrush Marketing Calendar or creating your own editorial calendar for a more collaborative and transparent way to plan your marketing campaigns. Additionally our sales team relies on the collaborative tracking features of Pipedrive CRM for staying on top of leads and sales while working remotely. 
Making the most of work from home
When done successfully, telecommuting can be just as productive as face-to-face interaction in an office—you just need the right work-from-home tools to collaborate successfully. We hope this list helps you better understand your options when it comes to telecommuting software, and make the choices that work best for your marketing team.
Want to learn more about successfully working from home? Read more working from home tips here.