As marketers, we know there are best practices we should be following to drive results, but these strategies are often put on the back burner as we focus on getting through our day-to-day work. When helping clients prioritize their efforts, we've found teams that use an editorial calendar consider it well worth the time and effort.
Editorial calendars have proven themselves to be invaluable tools that keep marketing teams and individuals on task and thinking strategically as they plan out their marketing content. A detailed editorial calendar allows marketing managers to plan and organize their content across multiple months, giving them ample time to scale up their efforts and support larger initiatives. This prevents last-minute scrambling ("where's the blog for that trade show?!") and helps their marketing team better understand their responsibilities for content.
When you have a big-picture view of marketing content, a team lead can take a step back and confirm they are hitting all stages of the marketing funnel and targeting the appropriate audience(s). According to marketo, "approximately 96% of visitors that come to your website are not ready to buy," so having valuable, educational content is critical to lead generation. This should be used alongside middle-of-funnel content (like case studies and webinars) and bottom-of-funnel content (like free trials and estimates) to attract and drive qualified leads toward conversion.
Too often we've seen marketing managers push nothing but promotional content, or take a reactive, rather than proactive, approach to content creation. This almost always results in low-quality content that does not provide real value to visitors, and makes it unlikely to rank well in the search results. As experienced SEO content writers — and extensions of our clients' marketing teams — we've found that assembling even a basic editorial calendar helps prevent these problems by enabling a more strategic and long-term approach to content creation.
Drawn from our free digital marketing workshop on Creating a Content Calendar, we've compiled the three simple steps you can take to create an effective editorial calendar and begin a more organized content process.
What is an editorial calendar?
Editorial calendars are used by companies or individuals to plan, track, and create content. They can be used to manage content across platforms (blog, website, social media, etc.) or for a single marketing channel (blog only).
Editorial calendars are useful tools for planning and executing a long-term content strategy. Marketing managers can look at their marketing goals and work backwards to plan the supporting content they'll need to reach those goals across weeks or even months. A big-picture view of the content efforts helps managers determine whether their content is an appropriate mix of top, middle, and bottom of funnel. Editorial calendars also make it easier to communicate expectations for content creation; when a marketing team has access to an editorial calendar, everyone knows what they are responsible for and when their work is due.
What does an editorial calendar look like?
Editorial calendars are typically set up in a spreadsheet or calendar format. In a spreadsheet format, users include the different information they need for content creation across the top columns, and individual content ideas in the rows. This allows users to add detailed notes and is easily customizable based on the information that is relevant to the editorial team.


A calendar format, on the other hand, uses a monthly calendar spread where editorial information is entered on the relevant day. We find this creates a couple of limitations: it restricts the amount of information you can fit for each piece of content, and the format lacks the ability to clearly define categories (topic, target keyword, etc.), which may lead to inconsistencies when different team members enter information. However, this format is a great way to visualize upcoming deadlines and can be useful for teams who need less guidance when creating content.
An editorial calendar can cover a week or several months to a year, depending on how far out you plan content and the amount of information you want to include. We recommend looking at your company and marketing team's goals to get an understanding of how far out you need to plan, especially if meeting those goals involve events (website redesign, trade shows, etc.) that require more time to spin up.
How do you build an editorial calendar for your blog?
Building an editorial calendar for your blog begins by understanding its purpose, and what you intend to accomplish with your content. You can then pick a tool and build an editorial calendar that fits the needs of your business and marketing team. Considerations include the size of your team, how often you'll be collaborating in the calendar, and the level of detail you want to include.
Step 1: Pick a tool
The first step in creating an editorial calendar is deciding which tool you want to use. There are many tools available for creating content calendars, ranging from simple spreadsheets to paid software made specifically for this purpose. Here are some options for editorial calendar tools:
Excel
Excel is a spreadsheet program that is accessible through the Office 365 suite. This paid service has an easy-to-use format and is customizable by the user. Users can work in the same Excel workbook simultaneously by saving it as a shared workbook. This is a good option for teams who already use the Office 365 suite.
Google Sheets
Google Sheets is a free spreadsheet program accessible through Google Drive. Similar to Excel, it is customizable and easy to enter data. Users who have been given access to the spreadsheet can collaborate simultaneously. This is a good option for larger teams who are already using the G Suite or a Google account. (You and your collaborators will each need a Google account to access Sheets.)
HubSpot
HubSpot offers multiple editorial calendar templates that can be downloaded for free after providing some basic information about you and your company. These editorial calendars are available in Excel, Google Sheets, and Google Calendar. This is a good option for small or large teams who don't want to build an editorial calendar from scratch, or who want to experiment with different types of calendars.
Trello
Trello is a tool that organizes tasks with boards, lists, and cards. It is available in both free and paid versions, with the free version limited to ten team boards. (Team boards allow you to collaborate by making the board accessible to all team members). According to Trello, team members can create lists on their board as part of the workflow. You can then use cards within each list to make tasks and assign them to different team members.
This is a good option for small or large teams who don't want to use a spreadsheet format, and don't mind using an additional tool for their editorial calendar.
Step 2: Add your elements
Once you've selected your tool, it's time to build your editorial calendar with the different elements that will communicate what type of content you are creating and who is responsible for it. This is your opportunity to personalize the calendar in a way that works for your business and team members' workflow.
Some elements you may want to add to your editorial calendar include:
Stage of the funnel
The stage of the marketing funnel indicates where the person is in the buyer's journey. As we mentioned before, an effective editorial calendar will have content at all three stages of the funnel (top, middle, and bottom) to drive visitors toward conversion.
Every piece of content should have a defined goal that relates to a stage of the funnel, whether that's educating the user (top of funnel) or selling them on your particular product or service (bottom of funnel).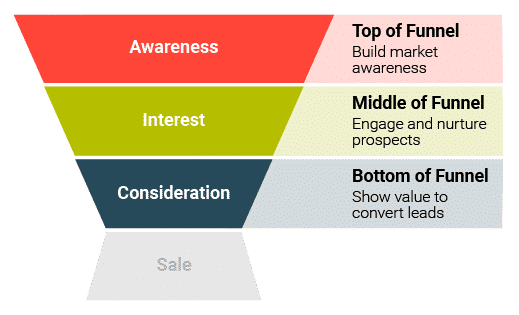 Learn more about the marketing funnel here.
Content type
Effective content marketing relies on multiple types of content, like:
Blog posts
Product pages
Social media posts
Infographics
Videos
Podcast
If your editorial calendar is only set up for one marketing channel, you may have only one type of content (ex: social media post) in your calendar. But marketers using their editorial calendar for all content planning efforts should make sure they are diversifying the types of content they use. People consume content differently, so having a mix of text and visual content (or using them together, like a video embedded in a blog post) will be most effective in reaching a wider audience.
Topic/target keyword
Keyword research helps you understand what words or phrases people use when typing in search engines. By picking a specific keyword and making it the target of your piece, you will improve your chances of ranking well for that term.
Your ideal target keyword will have a high search volume with low to medium competition. There are a variety of keyword research tools available to help you conduct this keyword research:
As you do keyword research around various topics, it's important to keep in mind the search intent behind the keyword. "How to tie a shoe," is pretty straightforward, but something like "basketball" (a highly competitive, high volume keyword) is not. Is someone trying to learn more about the sport of basketball? Do they want to buy a basketball? Looking at content that already ranks well for your chosen term will give you a better understanding of what information people are looking for.
This keyword and competitive research is an important step in creating content that is optimized for search engines. We've seen many clients write what they think will rank well, but these pieces are often too short or promotional to be effective. When you understand the competitiveness of a topic before you begin (and what is already ranking well), it will be easier to choose the type of content it should be, relevant subtopics, and the language you use when optimizing the on-page elements of your blog or page.
Content outline/overview
A content outline/overview section gives you the opportunity to communicate the purpose and general concept of your content. This can be as broad or as detailed as you want it to be, whether that's a short sentence description or a detailed outline with bullet points outlining your topic and subtopics. Your previous keyword research will help you identify relevant subtopics that can be used to make the most in-depth and valuable content possible.
Media
This section lets your team know what (if any) media is needed to complete your post. Text posts perform better when they're accompanied by visual content like a video, infographic, or image; according to a statistic from Search Engine People, "Including a video in a post increases organic traffic from search results by 157%."
Assigned to/due date
"Assigned To" and "Due Date" sections add accountability to your editorial calendar and make it clear who is responsible for creating each piece of content and when it is needed. It also gives you a high-level view of what's been written, what's in progress, and what's coming up.
Step 3. Begin populating your editorial calendar
Once you've added the sections you need to your editorial calendar, it's time to populate it with content ideas.
In our experience, most companies typically start with topics they know they will be covering in the upcoming weeks or months, like events or promotions. Once you have these critical pieces of content scheduled, you can then fill in the gaps with new content ideas based on your keyword research. We also recommend using SEO tools like Ahrefs and SEMrush to conduct a competitive analysis and identify additional topics your competitors are targeting, but you aren't. You can keep this list on hand to inspire new content pieces that will fill gaps in your calendar. By following SEO best practices, you can strategically create content that ranks for desirable keywords and makes you more visible online.
Remember to mix up the stages of the funnel you're targeting, and consider the different types of customers you want to reach.
Get the most from your editorial calendar.
Whether or not you're regularly using an editorial calendar or have made it a resolution for the new year, it is a marketing effort that provides major returns on little effort. By investing the time to create an in-depth editorial calendar, you can set up a long-term content strategy that targets your visitors along every step in their journey, and ultimately become the qualified lead you'll need to seal the deal.
Want to learn more about digital marketing? Sign up for our monthly digital marketing newsletter.