In June 2021, Google will release an algorithm update that incorporates new signals related to page experience. These new signals, called Core Web Vitals, are part of a larger effort by Google to ensure searchers are having the best experience when using its search engine and visiting pages from the search results.
With the upcoming algorithm update, digital marketers need to make sure their website's user experience is in good shape, beginning with Core Web Vitals. Failing to do so will put your website at a disadvantage, potentially pushing your listing further down in the search results, leading to lower keyword rankings, less visibility, and fewer organic visits to your site.
What is Page Experience in Google Search?
According to Google, page experience signals "measure how users perceive the experience of interacting with a web page". The algorithm update will add a few new signals to Google's Core Ranking Algorithm, which will improve ranking visibility for pages that are fast, easy to use, and well-designed.
What are Core Web Vitals?
According to Backlinko, "Core Web Vitals are a set of specific factors that Google considers important in a webpage's overall user experience. Core Web Vitals are made up of three specific page speed and user interaction measurements: largest contentful paint, first input delay, and cumulative layout shift."
These Core Web Vitals are part of the larger, already existing "page experience score," and Google will be making CWV as part of the official ranking factor in May 2021.
A website with poor user experience is hindering its ranking potential and ability to convert visitors; according to Google itself, even a few seconds difference in page speed can have a severe effect on bounce rates. For example, if page load time increases from 1 second to 3 seconds, bounce rate increases 32%.
How to Improve Your Core Web Vitals
Web.dev by Google Developers lets you run tests on your website, see your website's performance, and get helpful tips for improving your user experience.
There is also a Core Web Vitals report in Google Search Console, which groups your website's indexed URLs based on performance.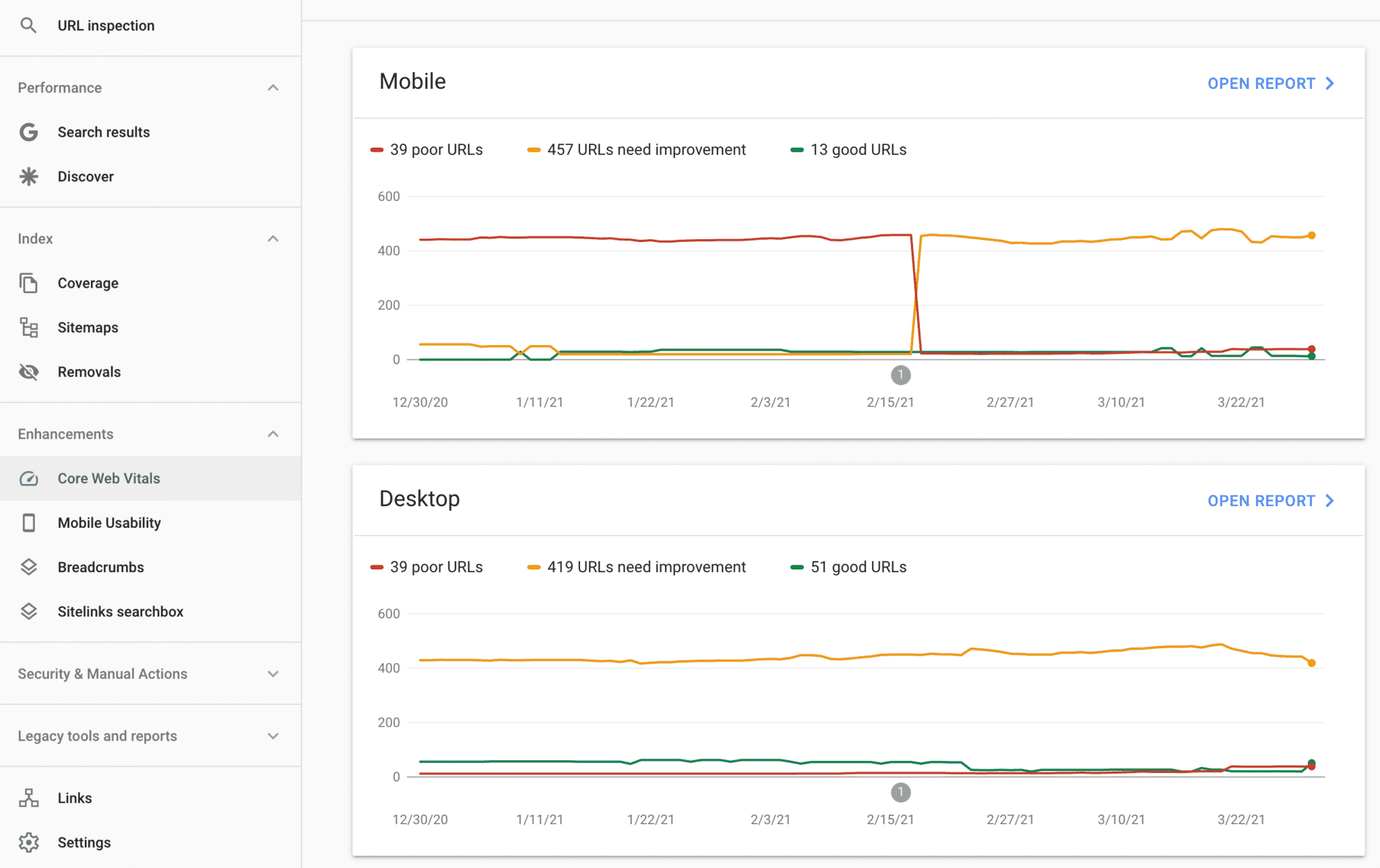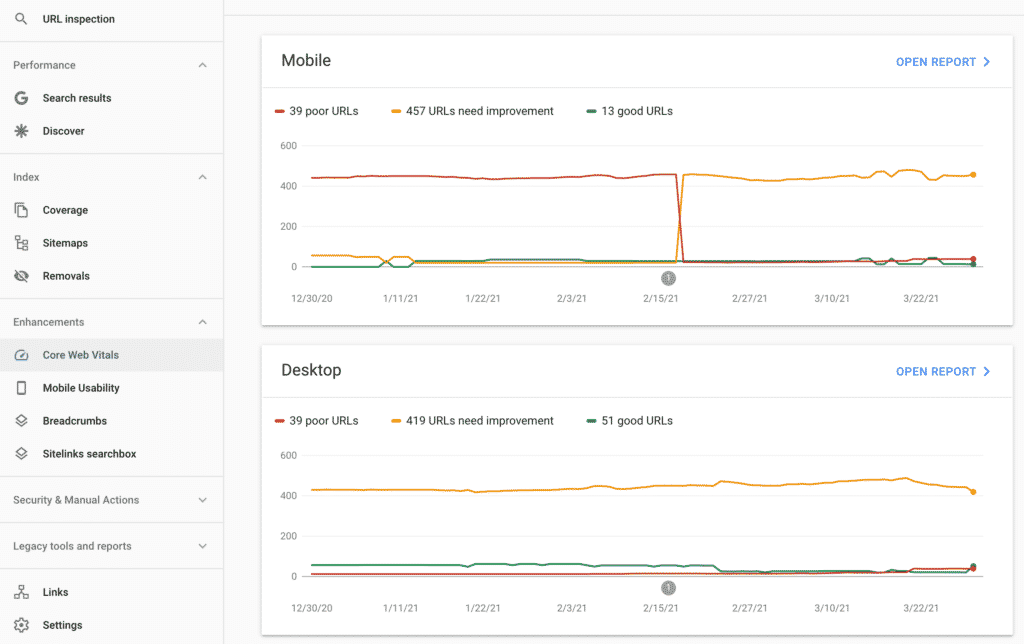 The report is based on the three metrics that make up the Core Web Vitals: Largest Contentful Paint (LCP), First Input Delay (FID) and Cumulative Layout Shift (CLS).
In the Core Web Vitals report, a URL's status is marked either Poor, Needs improvement, or Good. Google recommends prioritizing your issues by beginning with Poor URLs and provides information on how to track and validate your fixes.
Here's what you need to know about the new ranking signals within Core Web Vitals:
Loading Time
What it is: How long it takes for the main content of the page to load.
How it's measured: Measured by the Largest Contentful Paint (LCP).
Largest Contentful Paint (LCP)
The Largest Contentful Paint, or LCP, is a metric that measures "the render time of the largest image or text block visible within the viewport, relative to when the page first started loading."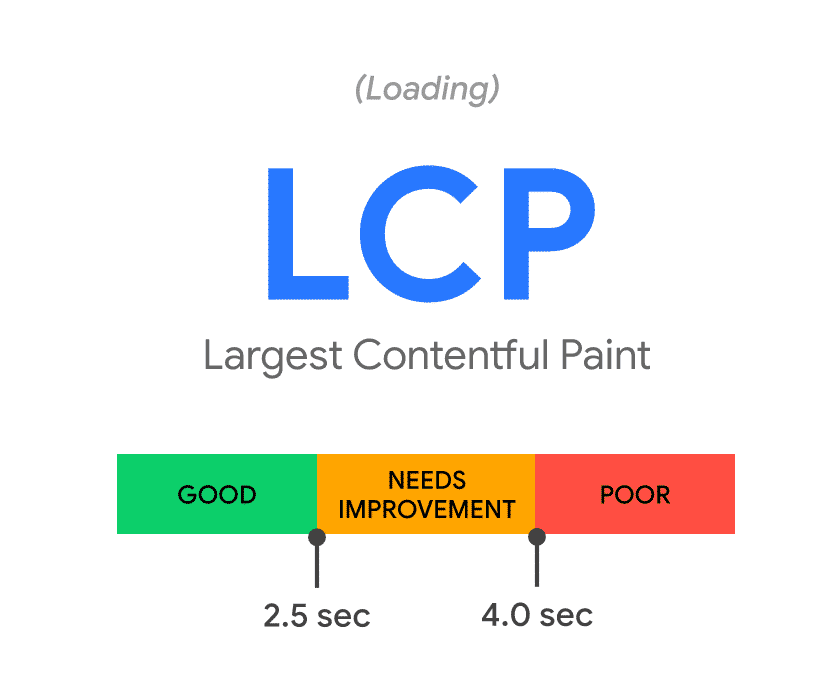 Interactivity
What it is: How long until you can click on/interact with elements on the page. How long does it take before the user can use the website as intended?
How it's measured: Measured by the First Input Delay (FID).
First Input Delay (FID)
The First Input Delay, or FID, is a measure of how long it takes from when a user first interacts with the page (clicking a link, tapping on a button, etc.) to the time when the browser is actually able to begin processing this request/response.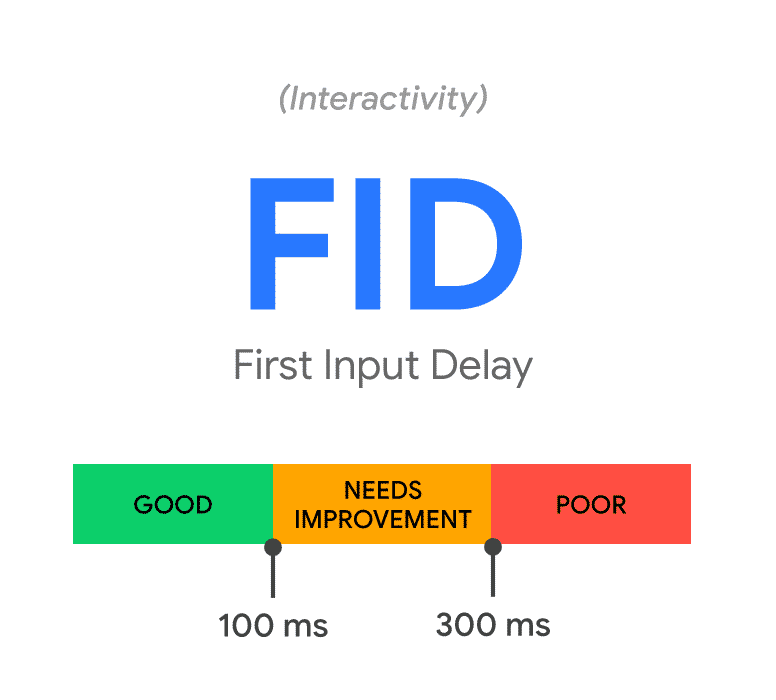 Visual Stability
What it is: How much your page "shifts" as/after elements load.
How it's measured: Measured by the Cumulative Layout Shift (CLS).
Cumulative Layout Shift (CLS)
The Cumulative Layout Shift, or CLS, is a measure of the total individual layout shift scores for every unexpected layout shift that occurs during the full rendering of the page.
A "layout shift" occurs any time a visible element changes its position from one rendered frame to the next.
Example: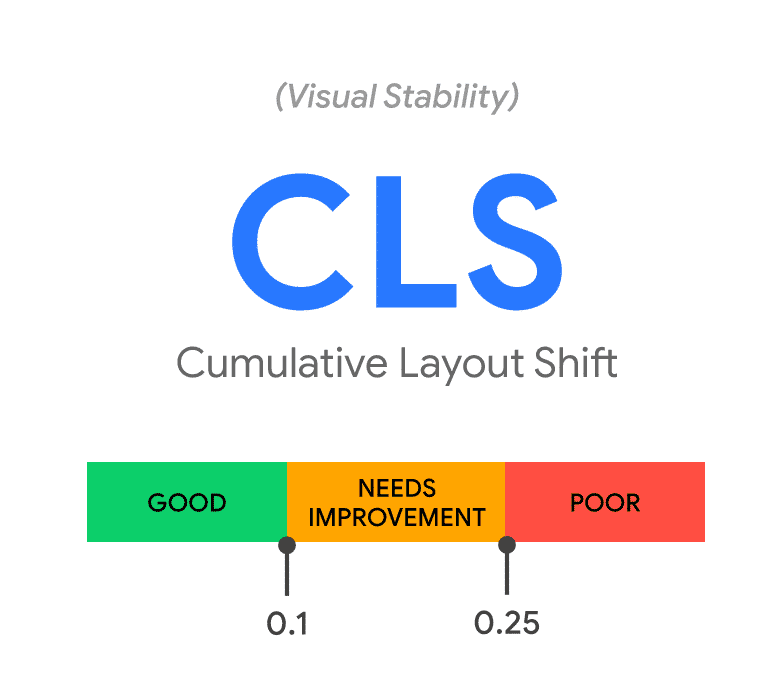 Additional Page Experience Signals
These new signals detailed above are being added to existing page experience signals that Google is already using to evaluate ranking potential.
Currently, web pages are evaluated using:
Tools for Improving Page Experience
For further and deeper SEO analysis, find a full list of SEO audit tools here.
Optimizing for Page Experience and Beyond
Remember, Page Experience is only part of Google's algorithm. There are many other influences such as expertise, authority, and trustworthiness (EAT signals), which are part of Google's Quality Raters Guidelines.
Google has also stated that, "our systems will continue to prioritize pages with the best information overall, even if some aspects of page experience are subpar. A good page experience doesn't override having great, relevant content."
As you are evaluating your webpages against these new Page Experience signals, it's an opportune time to review other important elements of your website's SEO audit tools, such as on-page optimization, content depth, internal linking, and more.
The best way to do this is through an SEO and Content Audit.
Here are some additional resources to help you get started improving:
If you don't have time to perform an audit and analyze the data on your own, Pure Visibility can help! We've been auditing websites for UX and search engine best practices for over 15 years and have an entire team devoted to conducting our proprietary Visibility Audit!