Being a marketer in today's digital world can be stressful. Whether you're an entry-level employee fresh out of college or a seasoned professional, marketers are expected to know a bit of everything when it comes to digital marketing—and that can get tricky when you're pressed for time.
It's hard to learn the basics of pay-per-click (PPC) or the ins-and-outs of search engine optimization (SEO) when you're up against a deadline, or your team is swamped with work. And the thousands of digital marketing resources to sift through online certainly isn't helping.
As digital marketing experts we understand the importance of getting the right information fast. We've compiled a list of SEO and PPC resources that every beginner should read, with a handy breakdown of what each article or guide has to offer. We hope you find it useful — our team certainly has!
Free SEO resources
Moz's Beginner's Guide to SEO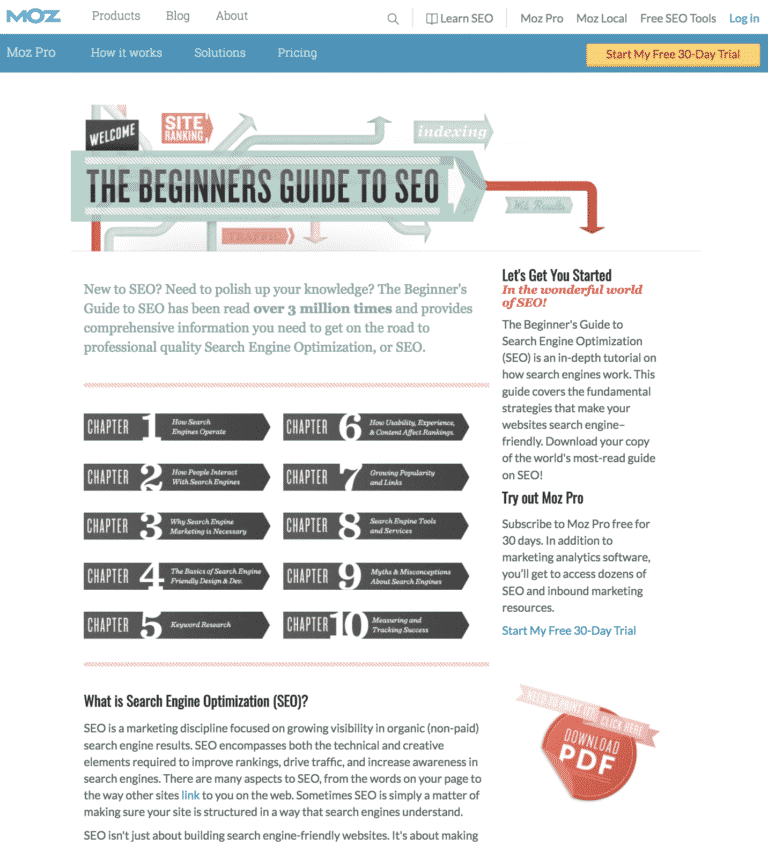 This comprehensive, 10-chapter guide was assembled by industry leader Moz and is a must-have resource for our new interns. The Beginner's Guide to SEO covers everything from how search engines work to measuring and tracking your success, with easy-to-navigate chapters and a downloadable PDF.
Each chapter is filled with useful information on a different SEO topic, explained with jargon-free language and helpful examples. As the title states, this is a great SEO resource for beginners, but it's also helpful for marketers looking to refresh their knowledge. If you want to learn about SEO, this is the place to start!
Backlinko's Definitive Guide to Keyword Research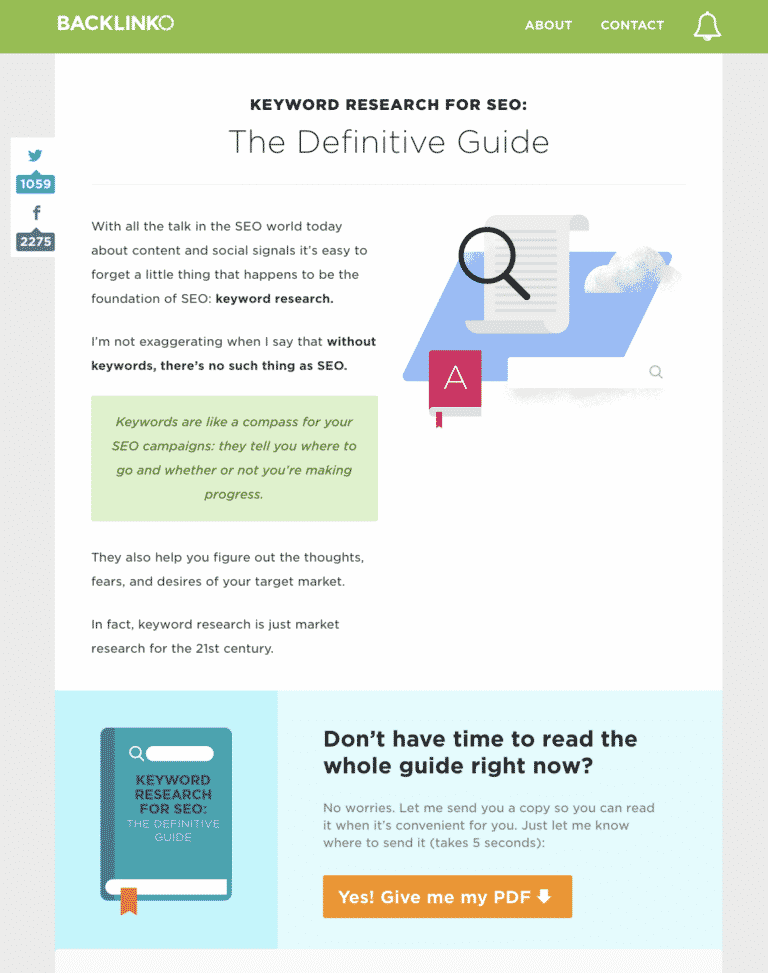 Choosing the right keywords is critical to SEO success, but keyword research is a complicated and constantly shifting topic that even veteran marketers struggle to understand. Luckily, Backlinko has created an in-depth guide to keyword research that explains how to find and use the right keywords. This guide breaks down common mistakes and tactics with plenty of screenshots, making it easy to follow along. This is a great resource for all marketers, but is particularly useful for content writers hoping to create optimized content.
Backlinko's Definitive Guide to Link Building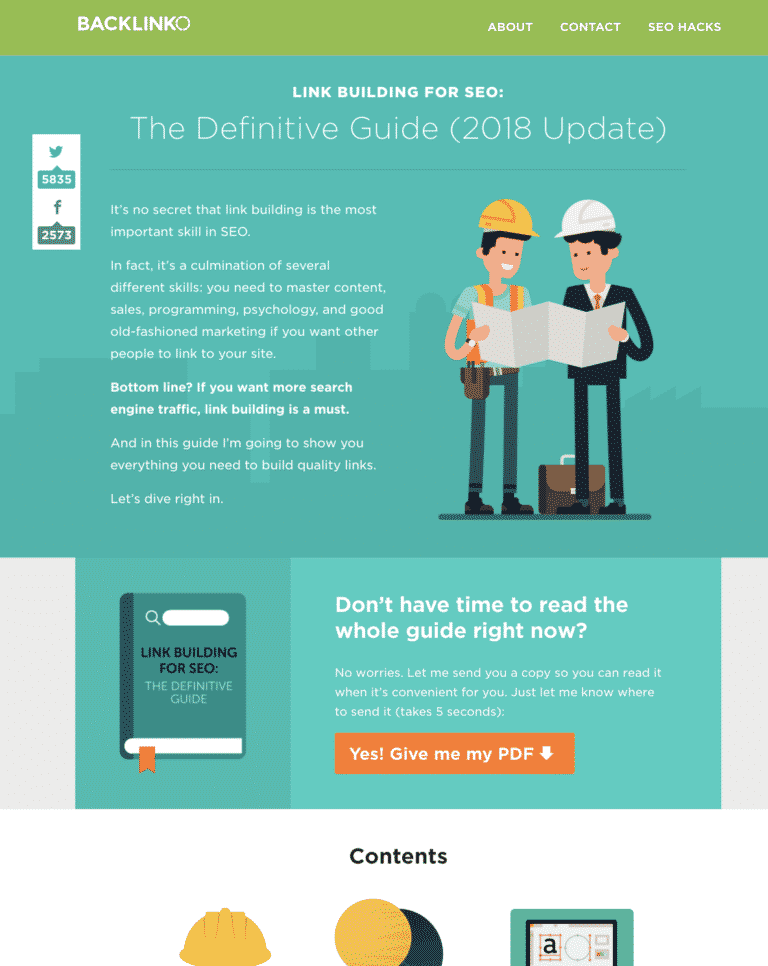 Similar to keyword research, link building is a commonly misunderstood SEO topic that can make or break your online presence. The number and quality of your backlinks (the links pointing to your site) is one of the most important ranking factors, but many marketers have no idea how to do it — if they even know what it is to begin with! With this guide from Backlinko you can learn the fundamentals and strategies of successful link building, as well as tactics to avoid. We've seen many clients suffer from black hat link building, usually implemented by shady SEO firms looking to cut corners. Learning the basics of link building will help you build your online presence while also steering clear of less-than-reputable companies and tactics.
(Worried you'll miss red flags when hiring an SEO firm? Check out our blog post on what to look out for.)
Moz's On-Page Ranking Factors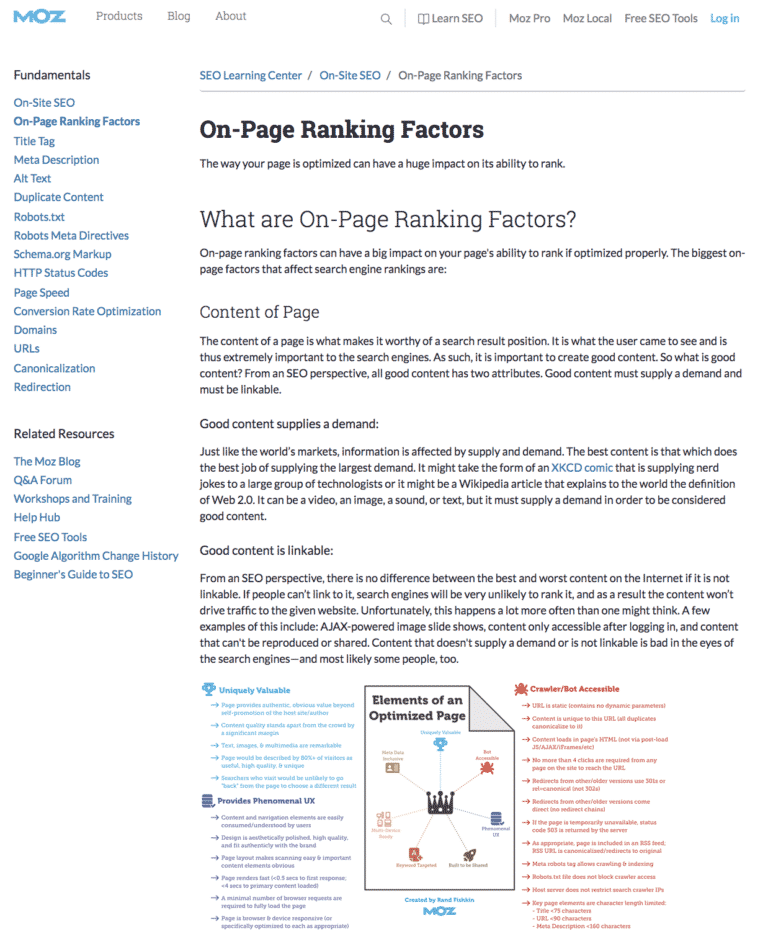 Another must-read for content writers is Moz's overview of on-page ranking factors. The article is a nice rundown on how content can be optimized, with links to pages covering more specific elements like title tags. This is important information for both writers and webmasters to know, as on-page factors have a major impact on your page's ability to rank.
Ahrefs' Outreach Guide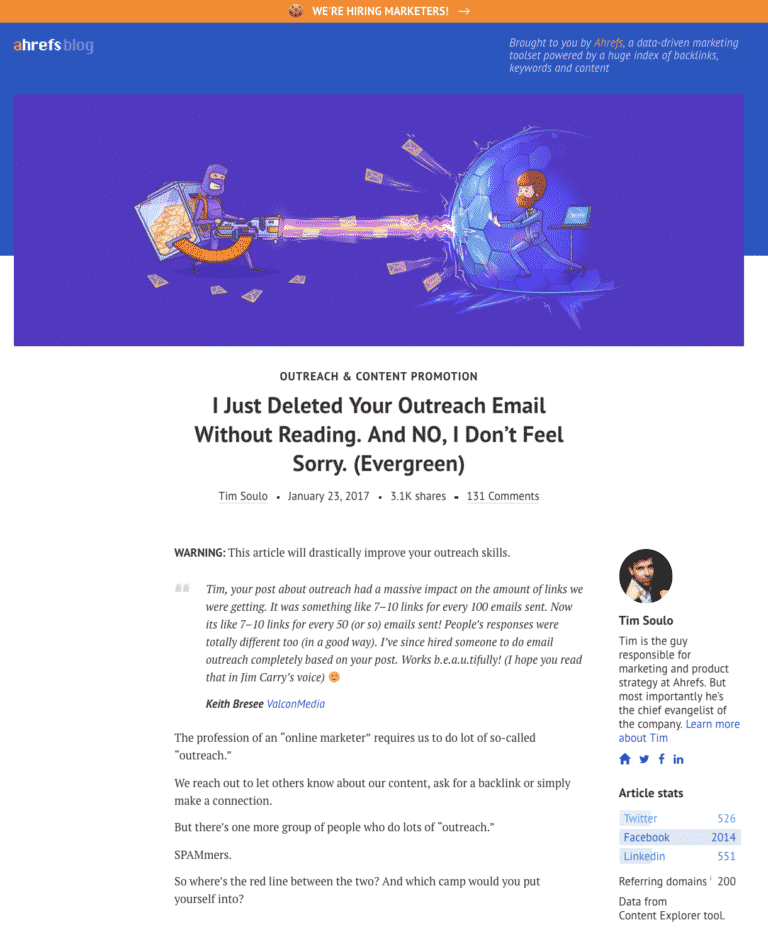 Conducting outreach? Ahrefs' Tim Soulo breaks down the process in this brutally honest blog post about the best and worst ways to reach out. Drawing inspiration and examples from his own inbox (and junk folder), Tim calls out spammy tactics while offering suggestions on how to improve your approach. This is a great read for PR pros as well as anyone involved in link building.
Digital advertising resources
Google Academy for Ads
If you're looking to dip your toe into paid advertising, the Google Academy is a great place to start. Google Academy for Ads provides free training on Google's full range of Google Ads products, and can give users a better understanding of PPC topics like setup and bidding. Whether you're a paid search newbie or a PPC consultant looking to utilize more advanced optimizations, Google Academy for Ads offers materials to suit your needs.
Facebook Blueprint
With social media algorithms making it harder and harder to perform organically, many companies are considering paid advertising on platforms like Facebook and Instagram. Luckily for them,
Facebook Blueprint offers more than 90 eLearning courses covering everything from ad targeting and formats to advanced buying options and measuring performance. The course setup makes it easy for you to find the topics you're interested in, and as the owner of Instagram, Facebook Blueprint gives you a two-for-one platform education.
Ad account set up in the major social platforms tends to work similarly, so learning to work with Facebook's Ads Manager can still be useful even if you're planning to spend more time in LinkedIn's Campaign Manager, instead. However, marketers interested in learning more about paid advertising in social media platforms should also contact us about available workshops.
Linkedin Marketing Success Hub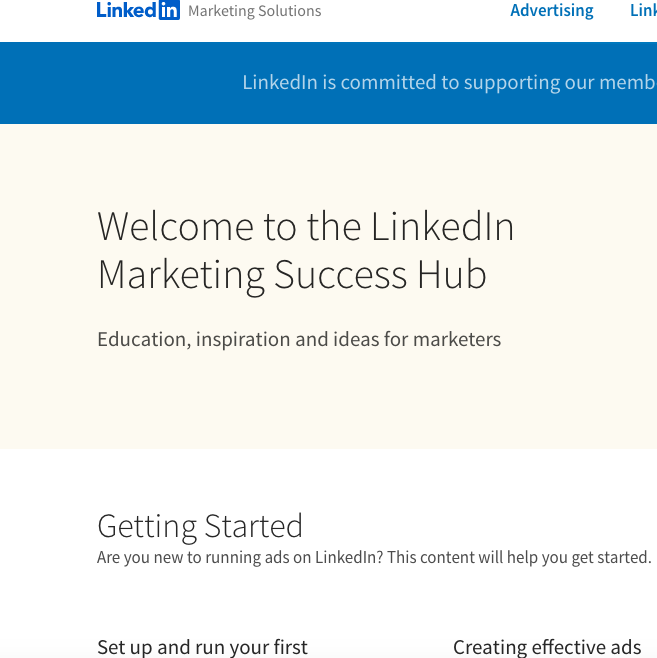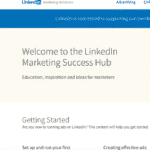 Boasting 675 million monthly users and the ability to target ads by company size, degrees, job title, and more, LinkedIn is a popular platform for B2B marketing. You can find LinkedIn marketing guides on popular industry blogs like HubSpot and Hootsuite, but beginners will likely want to begin at the source — on LinkedIn itself.
The LinkedIn Marketing Success Hub has a variety of articles to help you get started when running ads on LinkedIn. Find information on setting up your ads, advertising best practices, targeting, bids and budgeting, and how you can measure results.
Microsoft Advertising Certification Study Guide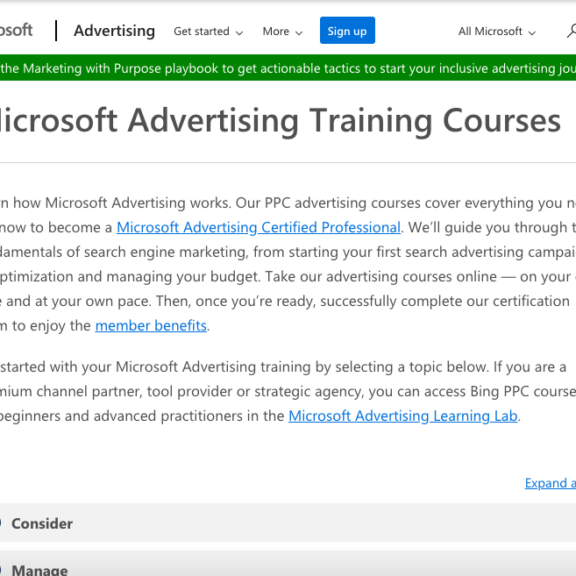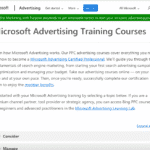 While Google is the undisputed leader of search share in the U.S., Microsoft Advertising (formerly Bing Ads) is still worth considering when it comes to your digital advertising efforts. The Microsoft Search Network audience makes up 12.8% of PC market share globally, and almost 37% in the United States.
Microsoft Advertising offers a free certification course and exam for its advertising platform, which can be taken at your own pace. Those who pass will receive a Certified Professional badge, official printable certificate, and placement in the member directory. You can find the study guide here.
Amazon Advertising guide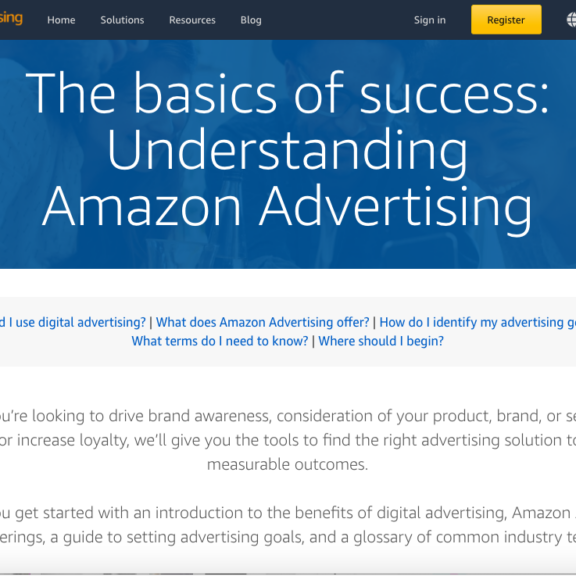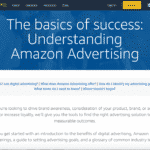 Like many of the other major advertising platforms, Amazon Advertising offers its own guide for marketers. You'll find useful information on ad types, advertising goals, and advertising terms — perfect for beginners who are just starting to learn about digital advertising and this popular platform for ecommerce PPC.
Finding the time
Although a busy schedule can make it hard, it's important to carve out time to continue learning and stay abreast of digital marketing trends. Missing an algorithm update or employing black hat tactics can ruin your website's online visibility, fast. Not only do our interns read these materials, but our digital marketing team leads come back to them, too — it never hurts to brush up on your knowledge!
If you're interested in more specific training tailored to your business and industry, Pure Visibility offers digital marketing workshops in SEO, PPC, and Google Analytics. Contact us today to learn more about our workshop options!
LIKE IT? SHARE IT?