Do you feel like you don't stand out when it comes to local search? Are you looking for an easy way connect with your regional audience? If so, Google's new Google Posts feature may be a great way for you to increase engagement through your Knowledge Graph and Google Maps listing, without sinking a lot of time and money into the effort.
Launched in 2017, Google Posts is a free tool for verified Google Business Profile accounts that allows you to display custom content, images, and even a call to action, along with your Google Business Profile listings for up to seven days at a time. You can use Google Posts to promote an item of interest, such as an event, announcement, new product or service, or a new piece of content. Google Posts can even be used to promote new offers and sales. It's such a low-effort way to draw more visitors to your site—not to mention zero cost—it's worth it to try Google Posts for your next promotion.
Get the most from your Google Business Profile listing—download our free tip sheet, Optimizing Google Business Profile
How to use Google Posts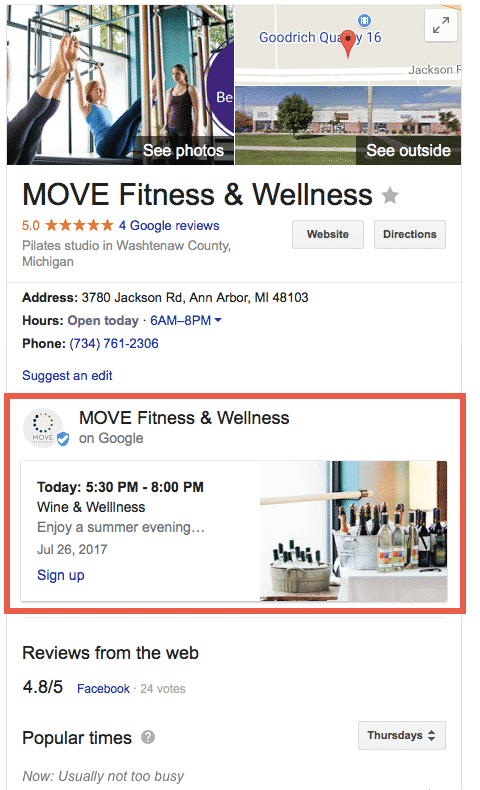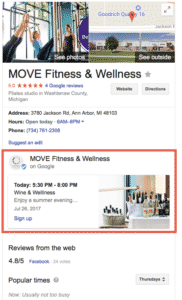 Creating a post is easy—with a little forethought, you can have your first post live in a matter of minutes.
Choose a call to action
Select the CTA most relevant to your post, then enter the appropriate URL for the button to link to (if applicable.) There is a preset list of CTA buttons to choose from ("Learn more", "Reserve", "Sign up", "Buy", "Get Offer"). Google also added a "Call Now" option in 2018, which calls the number on your Google Business Profile listing.
Decide on a goal for your post
Before you begin, it's best to decide on the purpose of your post. Would you like to gain brand awareness, bring traffic to your site, receive form submissions, or attract event attendees? Google Posts allows you up to 300 words and a selection of call-to-action buttons to help you achieve your goal.
Log in and get started
In your Google Business Profile account, simply click on the "shop" button in the list view of your account, then go to "Posts" or click "Create Post" to begin.
Upload an engaging photo
Choose a high resolution photo that is visually stimulating and relevant to your purpose to help boost engagement with your audience. Google recommends using photos that are clear, well-lit and colorful, with good framing. The minimum resolution of your photo should be 720px by 720px, in PNG or JPG format.
Pick your event type  According to Google, there are currently four different post types: what's new posts, event posts, offer posts, and product posts.

What's new: Provide general information about your business. You can include a photo or video, a description, and an action button.
Events: Promote an event at your business. Events require a title, start and end dates, and a time. These posts may also include a photo, video, description, and an action button.
Offers: Provide promotional sales or offers from your business. Offers require a title as well as start and end dates and times. A "View offer" action button is automatically added to the post. You can also include a photo, video, description, coupon code, link, and terms and conditions with the post.
Products: You can use the product posts to add products that will appear in your "Product tab." Note that the product post doesn't create a post to share. Source: Add posts for local business–
Write a compelling description
Use up to 1,500 characters (the ideal length for readability is 150-300 characters) to describe the details of your promotion or event.
Set details for your event (if applicable)
If your post is about an upcoming event, check the "Make this post an event" button. You'll now be able to create a title for your event as well as set start and end times. Titles should be around 58 characters, using 4-5 words to describe your event.
Publish your Post
That's all it takes! Make sure to preview your post before publishing to be sure everything is correct and displays properly. When you're ready, click "publish" and your post will be live on your Google Business Profile Knowledge Graph for the next seven days. If you need your post to display for longer, you can edit and republish the post once it has expired.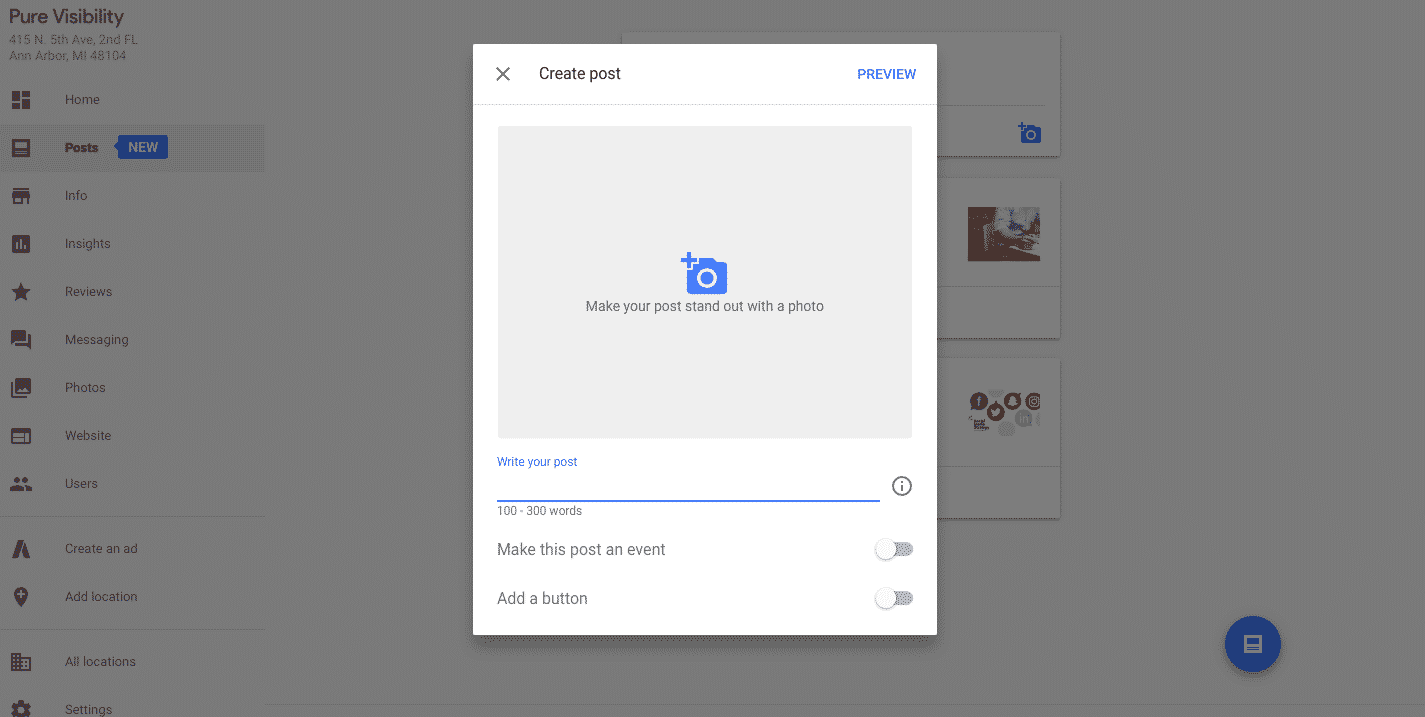 How to measure your Google Posts success
There are a few ways to measure the success of your Google Post:
Google Insights
Google Business Profile has a feature called Google Insights, which is a simple dashboard that allows you to see how many searches your business is showing up for, branded (direct) and unbranded (discovery); actions users are taking from the Knowledge Graph; and number of photo views. This data can help you understand how your Google Business Profile profile is performing overall.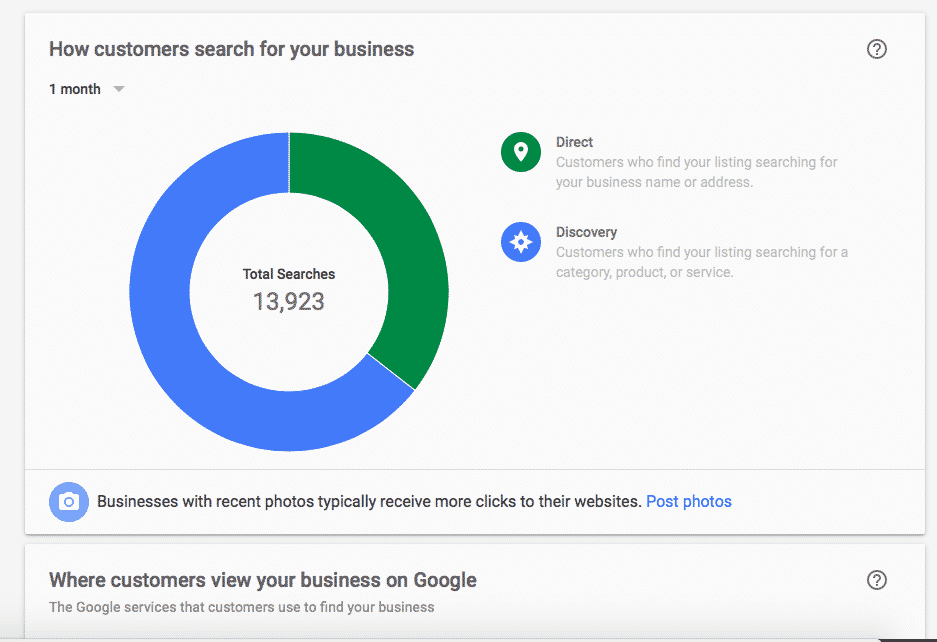 From the Google Post, itself
In addition to Google Insights, Google Posts offers its own insights, which can be viewed from the post itself. Businesses can see how many impressions their post showed up for and how many clicks the post received.
Advanced tracking with Google Analytics
You can track the actions that the user took after clicking on your post with Google Analytics. The best way to do this is to generate a tracking URL for Google Analytics to measure actions, such as submitted a contact form or signed up for the event or promotion. You can also review how long users stayed on your site, if they left right away, and the number of pages they viewed.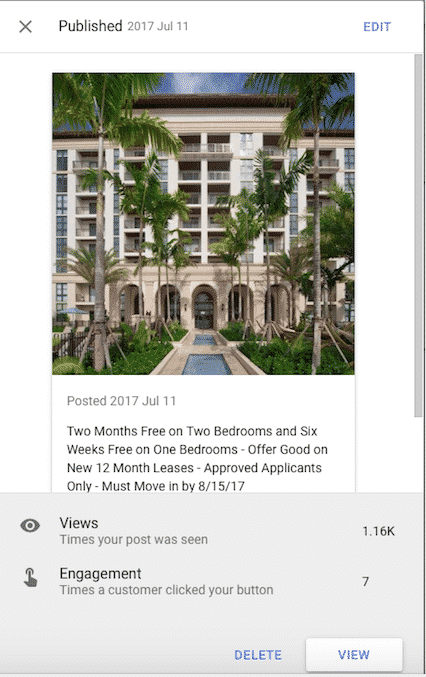 Post Insights
In 2018, Google announced you can now see Post Insights, which shows you data for an individual post, all posts from the last week, and all posts from the last month. This information is available in near real-time and can be accessed by clicking on the "Posts" tab in Google Business Profile.
Improving your post's success
After reviewing the insights and analytics, if you feel your post is not performing as well as you'd like, try testing different photos, verbiage, or even other landing pages.
Give Google Posts a try
We're excited to have Google Posts as a new tool in our toolbox when it comes to local search, and are already seeing success using the feature for our clients. With such a low barrier to use and good potential to engage your market, there's no reason not to try Google Posts for yourself.
For more information on getting the most from your Google Business Profile account, download our tip sheet: Optimizing Google Business Profile.
LIKE IT? SHARE IT?