With an ever-changing competitive landscape, property management companies are faced with the challenge of differentiating themselves from the many options springing up around them — and not everyone is succeeding. Highly competitive markets leave little room for error when it comes to property management marketing, but companies rarely know how to optimize their efforts.
As digital marketing experts with years of experience working with property management companies, we know from firsthand experience that solid search engine optimization (SEO) and pay-per-click (PPC) campaigns can be incredibly beneficial in driving more qualified leads. Unfortunately, we've also seen that many companies are leaving money on the table by not following digital marketing best practices.
To help, we've checked in with our team of digital marketing experts to compile a list of best practices when marketing apartments and housing online, spanning everything from website optimization to paid advertising seasonality.
Dominate search results & drive qualified traffic with SEO
SEO is the process of optimizing your website and its content to rank highly in search engine results. For property management companies, SEO often involves optimizing for highly competitive local keywords such as "new york apartments," or "apartments for rent nyc bronx"; the more competitive your market, the more effort you'll need to invest in SEO best practices.
1. Have a mobile-friendly website design
In the past, websites that received a large portion of traffic from desktop computers could get away with a less-than-friendly mobile experience. Unfortunately for these older sites, this is no longer the case; with 94% of people with smartphones in the U.S. searching for local information on their phones and Google's mobile-first index, having a mobile-friendly website is non-negotiable for property management companies.
The amount of work this takes varies widely depending on your website's current design. Responsive web designs (as in, websites that adapt to the device being used) may only need some UX updates, such as removing intrusive pop-ups and increasing button size. On the other hand, more antiquated desktop-only sites will likely need more intensive work done by a developer, or in some cases, an entire website redesign.
We recommend starting with Google's free Mobile-Friendly Test to check your website's mobile-friendliness score and get specific instructions on how to improve it.
2. Add relevant, optimized content
Once the technical foundation of your website is sound, it's important to work on building up a content library aimed at your target audience. This includes creating content specific to the geographic area(s) where you have properties. Consider putting together a local guide for people new to town, or helpful information on navigating the local housing market — anything potential renters or buyers would find useful.
Google wants the content it serves searchers to contain the most relevant information possible, so it's important that your pieces are optimized (title tag, header tags, images, etc.) and cover the topic in-depth. This is especially true in an industry like property management, where search results tend to be dominated by high-authority aggregators, such as apartments.com.
You can find ideas for content by talking to existing customers to get a better idea of what drove their decision, or use a tool like AnswerthePublic.com to research ideas. This content optimization checklist will also give you a better idea of how to write and optimize your content.
3. Set aside time for local search & reputation management
People are picky about where they live, and reviews can be hugely influential in whether or not someone is interested in your properties. According to BrightLocal's Local Consumer Review Survey, 88% of consumers trust online reviews as much as personal recommendations.
Monitoring and responding to reviews on local aggregators like Yelp and Google My Business will help you manage your reputation online and can even improve your visibility.
It is also a best practice to claim, verify and optimize your Google My Business (GMB) profile, which is a free listing provided by Google. Your GMB profile will be displayed when a person uses Google Search or Google Maps to search for your business name, or products or services that you provide. Optimizing your GMB profile allows you to manage and expand the details of your business's listings in Google Search and Maps results, which helps your business more easily appear on the first page for relevant, location-based searches.
Learn how to manage your Google My Business locations here.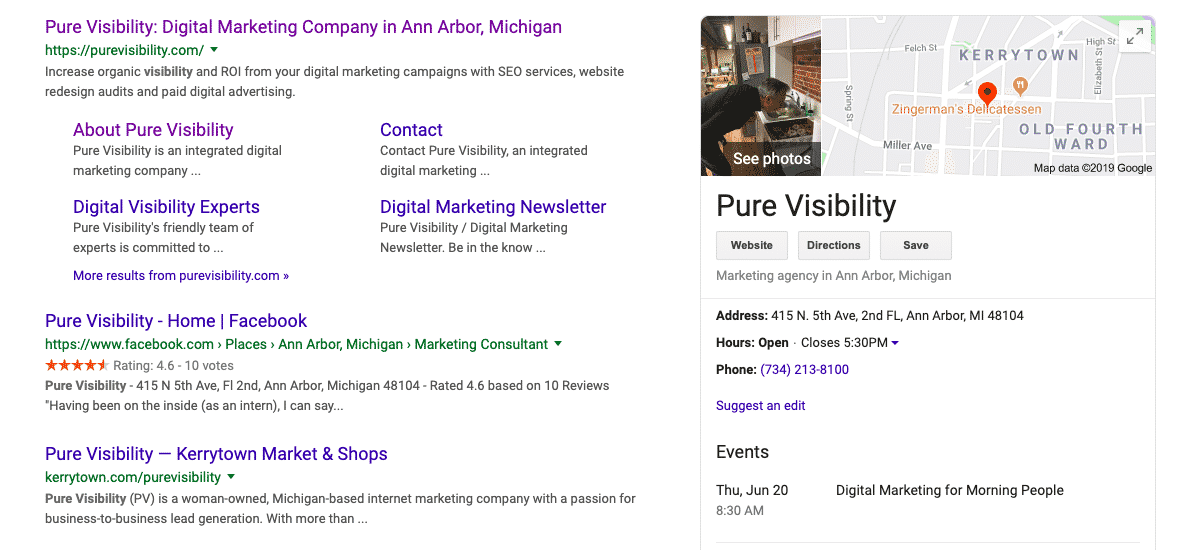 Digital advertising: get leads and sales quickly with PPC
Digital advertising, or pay-per-click (PPC), is the fastest way to generate more traffic, leads, and sales from your website. This includes, but is not limited to, Google Ads, social media advertising (such as Facebook, Twitter and LinkedIn), and Bing Ads. Our advice can be applied broadly across these platforms.
4. Consider cost
One of the biggest factors when approaching digital advertising is cost, which can vary widely based on the number of competitors in your market. When considering budget we recommend starting with the results you're looking for (brand awareness, clicks, conversions, etc.) and picking the ad types and platforms that are best-suited for achieving that KPI. For example, if your primary objective is driving conversions, it would be unwise to invest your budget in display ads, which are better for driving brand awareness. (Check out our primer on the different types of digital advertising and how to choose the right ad for your message.)
You can use Google's Keyword Planner to get bid estimates for Google Ads, or contact digital advertising experts to get a better idea of how you should spend your budget.
5. Advertise during peak search periods
One of the most commonly overlooked opportunities we see with property management companies is seasonality; namely, not allocating budget properly across the year. Although it can be tempting to sink all of your budget into your "peak periods," ideally you will invest year-round so you are advertising to people at all stages of the decision-making process.
Granted, you don't have to spend as much as you would in the high seasons (and in many markets it is probably inadvisable to do so), but you should still be setting aside some budget to capture early birds and last-minute decision makers.
Seasonality in property management can vary, but in our experience, people are less likely to move in the winter, (especially if they're in colder climates) and are too busy between Thanksgiving and Christmas to do much house hunting. Spring and fall, on the other hand, are popular search periods. In student housing, for example, we tend to see an uptick between March and May (toward the end of the school year) and in August (last minute searchers).
You can use a free tool like Google Trends to see the interest in keywords over time.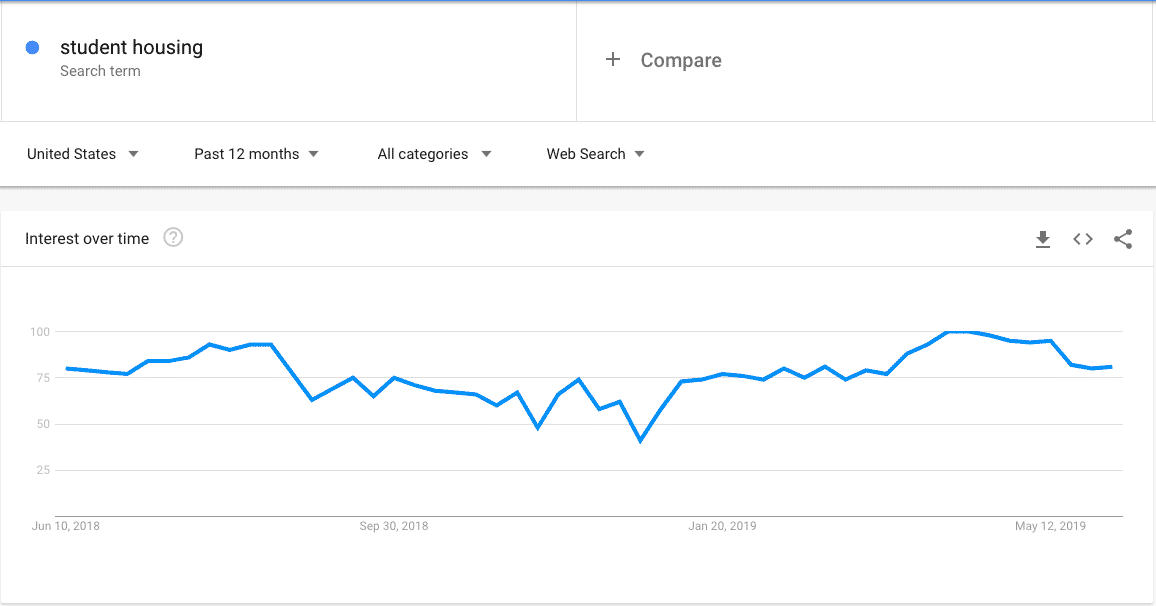 6. Stay FHA compliant
This isn't a best practice…it's the law! The Fair Housing Act (FHA) "protects people from discrimination when they are renting or buying a home, getting a mortgage, seeking housing assistance, or engaging in other housing-related activities," and this extends to your online advertising. The U.S. Department of Housing and Urban Development (HUD) has been cracking down on advertisers like Facebook for allowing certain targeting options that could lead to housing discrimination, so it's important you're taking every precaution when composing your ads. This means using images that are representative of the community, including the fair housing logo, and not targeting or excluding groups based on religious affiliation, income level, racial backgrounds, etc.
The National Fair Housing Alliance outlines basic advertising guidelines here.
Boost your properties' visibility & success with strategic digital marketing
No matter the season, it's never a bad time to put marketing best practices to work when promoting housing online. There are always steps you can be taking, be it aggressive PPC advertising during peak times to maintaining strong brand awareness year round: our six tips are the foundation for a proactive digital marketing plan to help keep your occupancies high.
Interested in increasing calls, tours and leases? Read our case study on digital advertising for property managers.