Google Business Profile is a useful, free tool for capturing local traffic and improving your company's overall visibility. From mom-and-pop shops, to national chain restaurants, almost any type of business with a physical location can benefit from an optimized Google Business Profile, but not everyone takes advantage of it. Why? For some companies, there's too much confusion around the best ways to claim and optimize their listing, especially if they have multiple locations.
As a digital marketing company with years of experience doing local SEO for multi-location businesses, we've seen the many ways companies can confuse their listings and let best practices fall to the wayside. To address this, we've compiled an overview of Google Business Profile and its benefits, how to set up listings for multi-location businesses, best practices for optimization, and how to see if it's all working.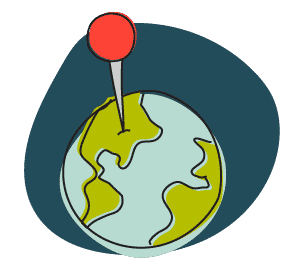 What is Google Business Profile?
Google Business Profile is a free tool that allows you to manage your business's listings in Google Search and Maps results and helps your business more easily appear on page one for relevant, location-based searches. Properly setting up and optimizing your Google Business Profile account can make a significant impact on the performance of your business listing.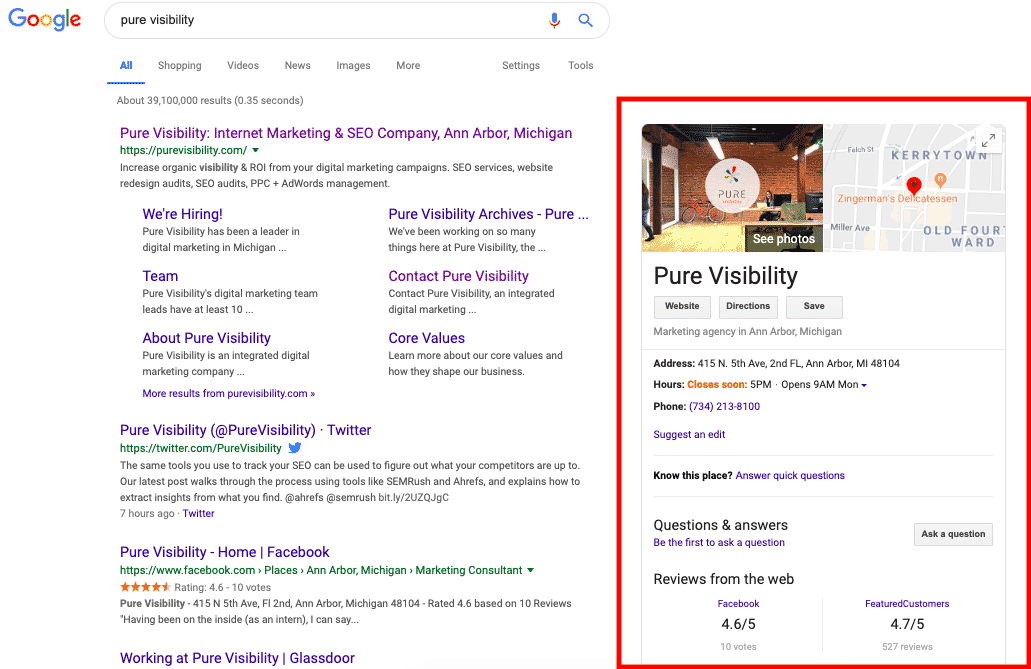 Benefits of Google Business Profile
Your Business Profile appears when a person uses Google Search or Google Maps to search for:
your business name, or
products or services that you provide.
At this stage in the buyer's journey, searchers are likely ready to purchase and are narrowing down providers; according to Think with Google, "76% of people who search for something nearby on their smartphone visit a related business within a day, and 28% of those searches result in a purchase." A well-optimized local presence is critical to making sure your business is the one that gets visited.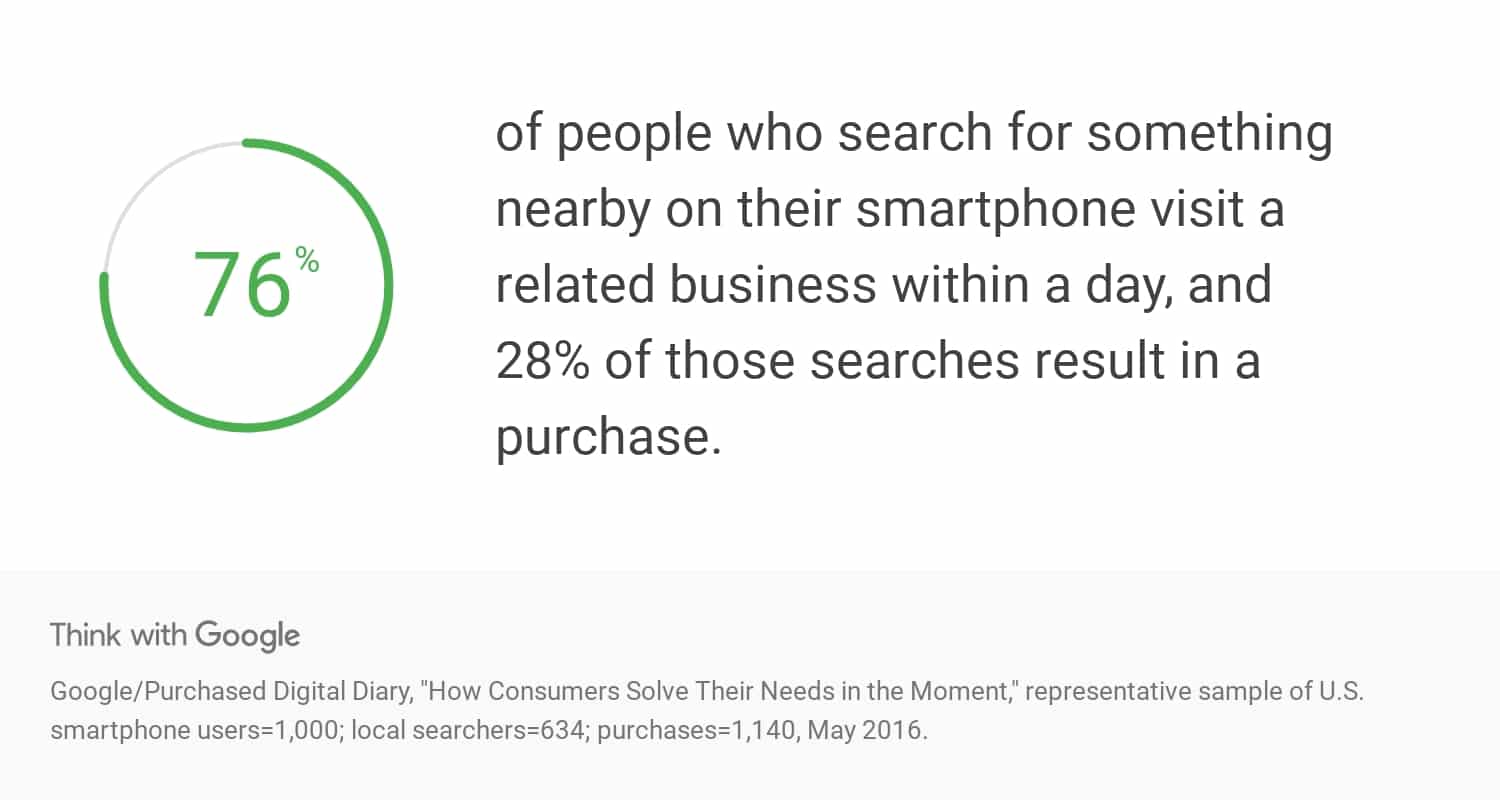 Google Business Profile is also a useful place for highlighting your business and promotions, as well as managing reviews that people leave on your profile. You can even access Google Business Profile Insights for information on how people find your business online and the actions they take on your Business Profile.
How to set up Google Business Profile when you have multiple locations
The easiest way to set up Google Business Profile profiles with multiple locations is to use bulk location management. Bulk location management allows businesses with 10 or more locations to add, verify, and manage their locations all at once, which simplifies the process significantly.
To use bulk location management you'll need to create a Google account and location group for your business. You can then create and upload a spreadsheet with all of your locations' information and request bulk verification.
Once your properties have been verified by Google, you can continue to edit and optimize them individually or in bulk.
You can find instructions on setting up bulk location management through Google Business Profile Help.
How to set up Google Business Profile for 9 or fewer locations
Businesses that are not eligible for bulk management will need to claim, verify, and update each location individually. This can get messy if different members of your company attempt to claim or verify your locations, or the owner of a listing leaves. You always want to know who has which level of access for your account, and should keep your business information neatly organized to simplify optimization. For managing Google Business Profilelocations individually, we recommend the following:
Use a general company email account as your listing's owner.
The owner of your Google Business Profile listings manages other users' access, so we recommend claiming your listings under a general company email, like local@companyexample.com, rather than an individual employee's. This will help you avoid a transitional headache (or accidentally losing access!) if you have turnover at the company.  
Note: This is also important for companies using bulk location management.
Designate your Google Business Profile managers.
If managing multiple Google Business Profile locations is too much for one person, you can use your owner access to designate other managers who can update business information, add photos, and respond to reviews. We recommend assigning managers to their own locations to keep responsibilities clear. (Ex: Dan manages Location A and B, while Carol manages C and D).
You can find more information about defining users for Google Business Profile and their capabilities from Google Business Profile Help.
Consolidate local listing information.
Although you won't be able to bulk upload when managing individual listings, it is still helpful to keep a shared document with all of your businesses' profile information. This not only keeps your management practices transparent and exposes potential errors (like Dan putting in the wrong hours for location A), but also gives you a centralized reference point for your local optimization efforts.
Best practices for optimizing your Google Business Profile profile
Once you have claimed and verified your account, it's time to begin optimizing. Best practices for Google Business Profile are the same whether you have one location or 300, but can be more difficult to manage with multiple locations.
Because of this, we've broken down optimization into two categories: basic and advanced.
Basic Google Business Profile optimization
Basic Google Business Profileoptimization covers the bare minimum of what should be included in your listing. This includes:
Accurate NAP (name, address, and phone number)
One accurate business category
At least 5 high-quality photos
Three or more reviews with a cumulative rating of 3 or higher. (Google Business Profile has the capability to pull in reviews/ratings from social media and other industry platforms, but having few reviews will make this difficult.)
Advanced Google Business Profile optimization
For those looking to go beyond the basics, we recommend an ongoing local search management strategy.
Select all relevant categories for your business.
Upload new photos to each location regularly (once a month). This can include photos of the outside and inside of your location, your team, your offerings, etc.
Encourage reviews on industry platforms to increase the potential of Google Business Profile pulling in reviews from social media and other industry platforms like Yelp, YP.com, and Foursquare.
Add business attributes your customers will find useful, like that your restaurant has outdoor seating.
Use Google Posts to highlight events, promotions, and content.
Extracting insights from your local search efforts
As we've mentioned before, optimizing your local search presence can have a significant impact on the traffic that gets driven to your website and your physical location. Using Google Insights' simple dashboard will give you a clear view of how people are finding you and the actions they take once they do.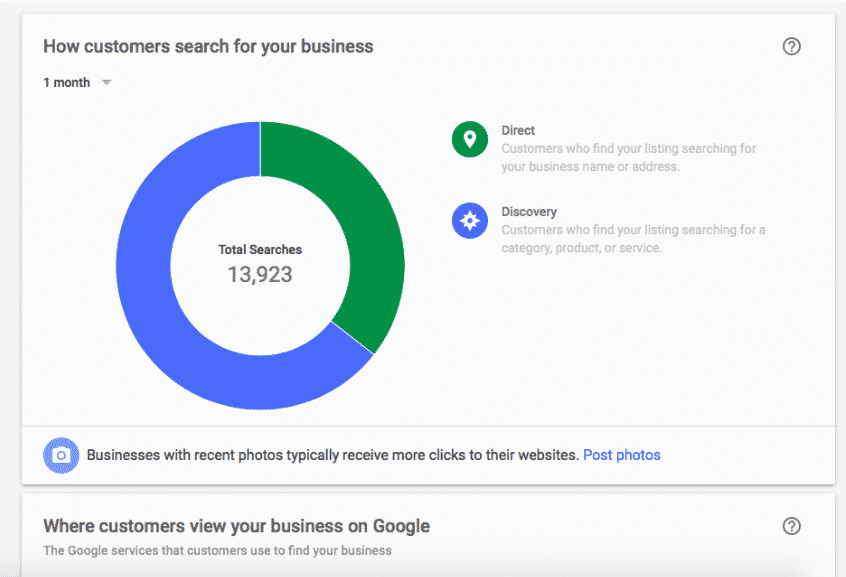 Useful information you can find in Google Insights includes:
How many people found you through branded vs non-branded terms
How many people found you through Google Search vs Google Maps
Which search queries they used
Number of visits to your website, direction requests, and phone calls originating from your Google Business Profile listing
Successfully managing multiple locations on Google Business Profile
Successfully managing multiple local listings on Google Business Profile comes down to organization, resource allocation, and a commitment to providing the best information possible. Google Business Profile is a great free tool for driving traffic and conversions with relatively low effort, and we highly recommend it as part of your larger digital marketing strategy.
Curious about the return on investment you can get from local search? Read our case study to see how we used local SEO to help a national property management company get a surge of leases in some of the most aggressive rental real estate markets in the United States.