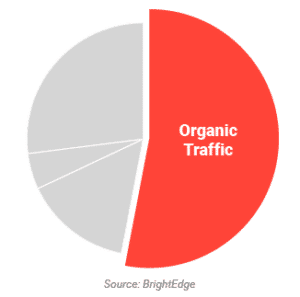 According to BrightEdge research, organic search "remains the dominant source of trackable web traffic and the largest digital channel," with an average traffic share of 53% across industries. You'd think the importance of organic traffic from search engines would make investing in SEO a no-brainer, but marketers and business owners often have real concerns about incorporating SEO into their overall strategy.
Perhaps you've tried SEO before with less-than-stellar results. Or maybe you're finding it hard to justify the expense in an ever-tightening marketing budget. And, if your Google Ads campaigns are particularly successful, it may seem like an unnecessary and redundant effort. No matter where you stand, it's understandable to evaluate if your investment in SEO is actually worth it.
As a digital marketing company that's been around since 2005, we've heard almost every objection you can imagine to investing in SEO, from concerns about cost and the ROI of SEO, to complete misconceptions about how SEO works. As understandable as a cautious approach may be, the bottom line is, SEO does work, and it's one of the most cost-effective ways to boost leads from your website, long term.
To help explain the value of SEO we're going to break down the 11 most common objections to SEO that we've heard, and show why they are worth reconsidering.
1. I'm already doing SEO.
That's great! Except…are you?
Sometimes we discover that marketers who say they're doing SEO are actually running a paid search campaign, posting on social media, or maintaining a blog—none of which is actually SEO!
Search engine optimization, or SEO, involves the strategic use of a variety of specialized tactics, including keyword research, on-page optimization, link building, and both technical and content optimization, to drive qualified traffic to a website by improving its organic (non-paid) rankings in search results.
While other techniques—specifically paid search, but also efforts like social posting—can drive traffic to your website, they are not considered SEO because they have no effect on how search engines naturally index and rank your content.
But this raises the question, does it really matter if your traffic is organic or not? For sustained business growth, it does. According to BrightEdge, of all traffic across the web:
These statistics clearly show how powerful SEO is as a tool to grow your website. This isn't to say paid search or any other effort isn't worth it. Different methods of digital marketing reach audiences at different stages of the buyer's journey, and they work best when used to complement a solid foundation of SEO.
If you're interested in learning more about the fundamentals of SEO, we recommend Moz's Beginner's Guide to SEO as a great primer on the topic.
2. SEO is too expensive.
Good SEO is certainly an investment, but it can, and should, pay for itself when done correctly. If you use a website to promote your business (and who doesn't?), SEO is simply invaluable. Why? Consider these SEO statistics:
Nearly 92% of traffic that comes to a website through Google is from the first page of search results.
Of that traffic, about 33% goes to the first organic link.
More than 50% of all website traffic comes from organic search and accounts for more than 40% of business revenue.
Is your website responsible for generating 40% of your revenue? Of course this statistic will not apply equally to every industry, but it shows how significant organic search visibility can be to business success. If you aren't investing in SEO, you are leaving a huge potential revenue stream on the table for your competitors.
So how much should you pay for SEO to be worthwhile for your business? Again, that will vary greatly by industry and how competitive the market is. But Search Engine Journal reports that a majority of businesses spend about $5000 per month on SEO.
No matter your budget, SEO can significantly affect your bottom line. Businesses who invest in strategic SEO reap the rewards. SEO is only too expensive if it's not justifying its cost by generating enough leads. If that's the case, it may be time to reconsider your strategy or provider, rather than abandon SEO as a component of your marketing strategy.
3. SEO takes too long.
SEO does take time. While some SEO tactics can be implemented fairly quickly, such as optimizing H1 tags, you'll get the most benefit from a comprehensive strategy. This includes not only tuning up the website you have, but planning for the ongoing addition of optimized content. And while it's not impossible to experience the benefits of SEO sooner rather than later, there is no way to guarantee how quickly optimization will be taken into account by Google.
We encourage our clients to invest in a minimum of six months of SEO to begin to see real, sustainable benefit. That said, it's not uncommon for businesses to experience some level of improvement in as little as two weeks after implementing changes. Remember, SEO is cumulative; it builds upon itself to make it easier for your future optimization efforts to be successful. A year from now, you will thank yourself for the SEO you invest in today.
Because it tends to be quicker, paid search advertising is sometimes seen as a superior investment to SEO, but this simply is not the case. While both may drive traffic to your website, the two channels are quite different. Using these efforts in tandem will allow them to build on each other over time and increase your overall return on investment. Not to mention, if you decide to discontinue paid search, your traffic won't be lost altogether. Thanks to your SEO efforts you'll have a steady flow of organic traffic coming to your website.
4. I don't have the resources to write content.
Marketers who have heard that "content is king" may think SEO is out of reach because they don't have the resources to create new content. And while this can certainly slow down your SEO efforts, the good news is that SEO is not all content. There are many technical fixes or less-involved on-page optimizations you can make that will still improve your organic visibility.
For example, one strategy we often recommend is optimizing and expanding existing content. Pages on your website that already rank on the second or third page of search results are excellent opportunities for marketers who want to make efficient use of writers within a tight budget. Tactics like rewriting title tags and header tags or adding media can be quick ways to better optimize the on-page elements of your page. Looking for areas to expand your content and make your page more in-depth are also less time-consuming than writing an entirely new content piece.
Of course, you'll still need someone to make these changes, which can be a challenge if you don't have the budget for a designated writer on-staff. In this situation, we recommend either hiring a freelance writer (preferably with experience in your industry) or training an existing staff member in SEO best practices so they can incorporate writing into their workflow.
It's important to keep in mind that when it comes to content, quality is always preferable to quantity. Even a blog post a month can see strong returns when done strategically.
5. I don't have a web developer on staff.
Not having a web designer or developer on staff can be a legitimate issue when you're trying to implement SEO recommendations. A team's lack of technical knowledge can prevent work from moving forward, and the impact of SEO is limited when changes can't be made.
Fortunately, there are some workarounds for non-developers who still want to take advantage of SEO services. For example, we have seen many clients have success when implementing our recommendations with easy-to-use website plugins. Two of our favorites are Yoast SEO and Redirection:
The Yoast SEO plugin is a popular choice for WordPress websites and can be used for sitewide settings (creating an XML sitemap, implementing breadcrumbs, etc.) as well as page by page optimization (selecting a target keyword, defining a title tag and meta description, etc.)
Redirection: Redirection, another WordPress plugin, lets users easily manage and implement 301 redirects, which can help your website regain valuable link equity.
When approaching a potential SEO partner, make sure to disclose what you can and can't do yourself. Good digital marketers will help you find the most effective and cost-efficient way for your team to approach SEO implementation.
6. My website is part of an all-inclusive package; SEO is part of it.
There are many benefits to one-stop-shop web development, at least on the surface. But when SEO (or paid search) is part of a website package deal, it's usually done generically with automation rather than a custom strategy. Businesses tend to see less-than-desirable results from these types of campaigns.
Sometimes, all-inclusive web development shops will target a specific industry, which means there's an inherent conflict of interest in helping several businesses try to outrank each other. These types of package deals may be a convenient and affordable way to get a website going, but they often aren't a long-term solution. In the worst cases, they hinder a website's growth and limit the business it can generate.
If you find yourself in a situation where your website needs to bring in more traffic, but you're locked in to a service agreement and can't make the SEO changes necessary to get there, you'll need to think outside the box, or seriously consider your contract's kill clause. No matter your limitations, an SEO expert can advise you on what work-arounds can help you see some movement in your rankings. We've helped clients implement very targeted tactics to improve their visibility while waiting for a service agreement to expire. Some ideas include the following:
Link building can be an effective way to improve traffic when you are unable to edit your website content. It's vital that such efforts are done with care, since poor link building can lead to spammy backlinks and a potential loss of rankings.
Content optimization can be helpful if you have at least some ability to login and edit your website. With all-inclusive sites, the content that is accessible to a client tends to be pretty restricted. Entire pages or sections may be off-limits, as are any changes to the HTML tags in the code. But that doesn't mean SEO best practices can't be applied to what you can change. It's important to be strategic with your content optimization, so you can get the most out of your limited efforts.
Guest posting, while not exactly SEO, can be another strategy you can use to help build traffic and authority for a website that you can't directly edit. Reaching out to influencers in your industry and pitching a contribution to their blog can be a valuable way to improve your visibility, and is a win-win for both parties. Again, a well-advised approach is necessary since guest-posting takes a fair amount of time in research, outreach, and writing.
When you rely on your website to drive business at any level, it's imperative that you are able to control your SEO. A website that is stagnant is essentially left to die in the eyes of search engines. If you are in a sticky situation like this, well-done SEO is more valuable than ever. It's worth the investment in experts to reclaim your lost visibility and set your website growth back on track.
7. No one knows my business like me!
If you're in an industry that requires a great deal of technical knowledge, it can be hard to find an "outsider" that understands your business's unique challenges. This is an issue we've seen a lot, and we understand the frustrations of working with agencies who miss the mark because they don't have a firm grasp on what you do.
Fortunately, good SEO does not always require a deep or technical understanding of your industry:
Technical SEO has to do with the performance and structure of your website rather than industry-specific content. Since websites for businesses in the same industry tend to have similar technical problems, it's just as important to address technical SEO issues in order to stay ahead of the competition. For example, an ecommerce company should find an SEO provider familiar with ecommerce SEO because these websites commonly have the same types of issues: duplicate content, lack of internal links, and poor site speed.
A good amount of effective content creation can be done without subject matter experts. Top-of-funnel content—broad, educational pieces—require less specialized knowledge, but is highly valuable because it drives organic traffic through non-branded keywords, making it a great way to reach new prospects. And when you do need more technical information, having your subject matter experts work with writers and SEOs is a great way for others to learn your business. Good technical writers are adept at learning an industry quickly, as well as knowing their limitations so they can efficiently extract the answers they need to write highly-effective content.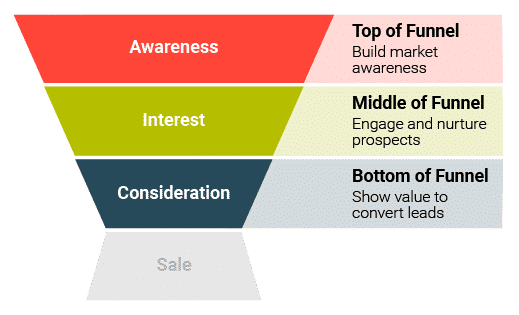 8. I'm doing [SEO tactic], isn't that enough?
With the endless supply of simple hacks and quick tips in digital marketing, it can be easy to get hung up on a single SEO tactic, such as putting keywords into titles and heading tags. And while focusing solely on on-page optimization may have pushed you to the top of the search results ten years ago, SEO has become increasingly complex. Google considers over 200 factors when ranking pages, and uses machine learning called RankBrain to determine, not only the most relevant results for a given search, but also how users are interacting with those results.
This means it's much harder to "trick" the algorithm than it once was, and relying on one tactic can lead to questionable practices that can get you penalized. For example, a company focused solely on building backlinks may be tempted to use automated programs, launch large-scale guest posting campaigns, or pay for blog posts that pass PageRank—all tactics that are now considered "link schemes" and a violation of Google's Webmaster Guidelines.
At the end of the day, there's no single technique that will get you the rankings you want. An effective SEO strategy is comprehensive and relies on a combination of tactics working together. We recommend starting with a thorough SEO audit to help you better understand the different factors that are influencing your website's search visibility and identify opportunities to improve. From there, you can build out a comprehensive SEO strategy that will improve your rankings and increase qualified traffic for the long run.
9. I invested in SEO before, but didn't see improvements.
When you pay for a service designed to impact your bottom line and don't see a return on your investment, it stings. And with SEO, it can be hard to identify exactly what went wrong.
In our experience, marketers who have been less than thrilled with their investment in SEO have a) been dinged by a major update to Google's algorithm, b) worked with an "SEO" company that wasn't doing good SEO, or c) both.
Although no SEO strategy could claim to be algorithm-proof, SEO providers who follow best practices should see their clients' traffic and rankings stay on track regardless of algorithm updates. If you've worked with a company using black-hat tactics, such as buying links, keyword stuffing, or using unoriginal content, your website may have suffered significantly.
10. I've already redesigned my website. I don't need SEO.
SEO is not "set it and forget it." A past redesign, even if it was successful, does not guarantee you have strong rankings now. With new content entering the search index every day, it's highly likely that you've been knocked down a page or two in the search results if you haven't kept on top of your optimization, and that can have major ramifications for your traffic. If you rely on organic traffic to drive business, it's vital to know where your SEO stands so you can continue to make improvements and maintain your competitive edge.
This is true even if you have a redesign planned for the future; if anything, SEO is more important before a redesign! Although many marketers think of it as a fresh start, a poorly-executed redesign can lead to broken backlinks, lost SEO elements, and the inadvertent deletion of high-value content. A redesign is an excellent opportunity to invest in your ongoing visibility by preserving existing SEO elements that are driving traffic and creating an SEO strategy that leads to long-term success.
11. Paid search is better anyway.
Paid search advertising, a type of pay-per-click (PPC) advertising, is a highly-effective marketing channel with many benefits. When done correctly, it can generate quick results by driving additional traffic and sales, all while showing marketers clear ROI for their efforts.
However, some marketers mistakenly believe that investing in paid search alone is enough to drive traffic to their website. In reality, no marketing effort should operate in a silo. With organic traffic accounting for an average of 53% of website traffic, it simply can not be ignored. In fact, we have found that SEO and PPC efforts often work best in tandem, with SEO bringing in visitors through non-branded searches and guiding them down the marketing funnel.
Also, keep in mind that paid search efforts are only as good as the time they are running. Once you turn them off there is no lasting value to your website. SEO, on the other hand, is cumulative and designed to pay off in the long term. The traffic that results from well-managed SEO will be there, whether or not you invest in paid search.
Make your SEO investment worth it
It's common for marketers to wonder if the effort and expense of SEO is worth it. Whether you've been burnt by previous attempts at SEO or are having a hard time justifying the cost in your marketing budget, it's important to fully balance the risks and rewards for your business.
In this post, we've addressed some common concerns surrounding SEO. While each is worth considering, the bottom line is that it would be difficult to find a business website that can't benefit from SEO. Unfortunately (as is the case with many things), those who would benefit the most, often have the hardest time justifying the cost. To that end, we'd like to encourage you to think of it differently. Instead of asking if SEO is worth it, consider how you can get the most value from SEO, for your budget. A good SEO expert, whether in-house or outsourced, will be committed to ensuring just that.