SERP Features are essentially any element in the search results beyond the traditional organic webpage listings and Google text ads.
SERP is an acronym for Search Engine Results Page. When a user types a query into a search engine, the resulting page of results is commonly referred to as the SERP.
What is the SERP?​
The definition of a Search Engine Results Page (SERP) is the page of results that is displayed when a user inputs a search query. So, when you type in a keyword search to Google.com for example, the resulting list of information is referred to as the SERP.
I first came across the term in a paper by Jansen, B.J. and Spink, A. (2009) 'Investigating customer click through behaviour with integrated sponsored and nonsponsored results', Int. J. Internet Marketing and Advertising, Vol. 5, Nos. 1/2, pp.74–94.
In years past this used to be a simple list of 10 results (the 10 blue links) and perhaps a few text ads. Nowadays there are many more components, or SERP features, bidding for our attention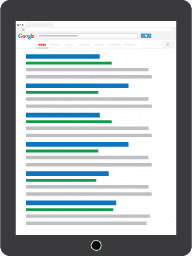 What are the different types of search results?​
Still, there are two basic types of search results: organic listings (those which are retrieved by the search engine's algorithm); and paid listings (sponsored text ads, aka Google Ads, or other advertisements, such as Shopping Ads).
Organic search results
Organic results are comprised of a Title (displayed in blue text), the URL (used to be below the Title in green, but now is above the Title in black), and the Description (an excerpt of text below the Title, usually highlighting in bold text where the keywords have matched with the user's search query).
Paid search results
Google text ads are visually similar to the organic results, and over time Google has experimented with different hues of color and "Ad" labels next to these paid listings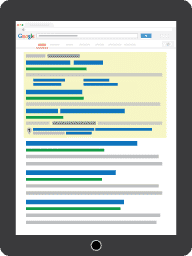 How are pages ranked in organic search results?
Search results are ranked by relevance to the user's search query. We don't know all the specifics of how these results are ordered, but we do know for organic listings there are over 200 ranking factors.
The key factors that help Google determine which results are returned for a given search query are, according to Google:
Meaning of your query

The intent behind the search term
Natural language understanding
Synonyms

Relevance of web pages

Content relevance
Keyword matching
Aggregated (and anonymized) interaction data (to assess whether the SERPs are relevant to the query)

Quality of content

Priority given to more reliable sources (E-A-T or expertise, authoritativeness, and trustworthiness on a given topic)
Sites that users deem valuable on similar topics
Backlinks from quality sites (and associated PageRank)

Usability of webpages

Algorithms developed to promote more usable pages over less usable ones
Does the site display and render properly in different browsers and device types

Context and settings
Over time, through experimentation and sharing of data within the SEO community, as well as digging into Google's Search Quality Rater's Guidelines, we know the most influential factors when it comes to ranking your content online.
In addition, Google representatives have recently confirmed the top 3 ranking factors can broadly be categorized as: Links, Content, and RankBrain.
There are other factors to consider, and some of the more important variables that come into play are:
user's location (based on IP address), Google will try to return specific results it feels is most relevant to your physical, geographical location
Personalization – if you are signed into Google owned platforms such as Gmail, YouTube, or Maps
Search history – again, if you are signed in, Google has a "history" of your search behavior and may cater the SERPs accordingly
How do Google Ads work?
For paid listings, the advertiser chooses their text ad headline, URL and description, and places a "bid" on particular keywords they'd like their ad to show up for. This bidding process works similar to an auction, where the highest bid usually wins the auction and has their ad displayed on the first page of search results.
The difference between Google Ads and a real auction, though, is that there is also a quality factor that comes into play. Google assigns your landing page a "Quality Score" based on a number of criteria like how relevant the landing page content is to the particular keyword you're targeting, expected clickthrough rate, and relevance of the ad itself.
What are SERP features?
SERP features are enhanced search results beyond the "normal" or "traditional" organic listings.
Looking at your typical SERP (search engine results page) from years ago, you would come across a page with 10 blue links. This was a simple list of the top 10 results for a given search query, each link representing a web page that Google determined to be relevant and authoritative enough to beat out all the other pages on the net, vying for ranking for that given keyword.
Today, you'll no longer see a SERP with only 10 blue links.
Today you have different features in the results page, enhancing your search experience by giving you more detailed information without requiring you to click through to a given website. Google wants to keep people on google.com as long as possible, heightening the likelihood of you clicking on an ad.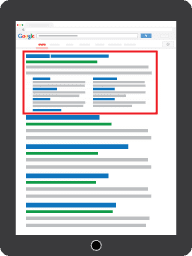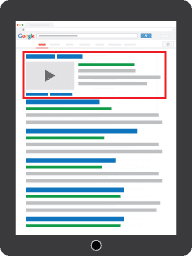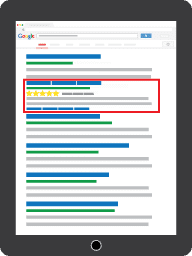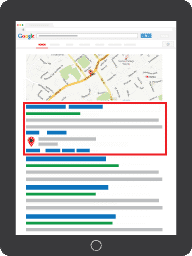 What are the most common SERP features?
The most common SERP features are perhaps the most easily recognizable. Many people have been exposed to these features years ago. Things like the Local Maps Pack and Google Ads at the top of the search results page can actually be referred to as SERP features.
These, along with the Knowledge Graph and Shopping Results, are probably the most common.
Which SERP feature was used on Google first?
Google introduced the Knowledge Graph semantic search and launched Google+ Local in 2012. This was a simple way to "discover and share local information". At the time, it featured Zagat scores and provided recommendations from people you were connected with on Google+.
Some of you may recall Google Wave (2009) and Google Buzz (2010) , which were predecessors to Google Plus, and an attempt to challenge other social networks. Obviously, Google Plus no longer exists today (it was officially shut down in 2019) but it laid the groundwork for new ways for users to find relevant local information.
Then in 2014, Google launched Google Business Profile, which replaced Google Places and Google+ Local. With many more features than Google+, such as business attributes, products, services, and Google Posts, as well as integration with Google Ads, Google Business Profile has proven a beneficial resource for businesses small and large. Especially for businesses with multiple locations, Google Business Profile is vital for digital marketing in the 21st century.
How many SERP features exist today?
Google is constantly running tests and experiments and pushing out new features to solicit user feedback. There are at least 15 different SERP features today (more, depending on how you break it down). We'll walk through these different SERP features with definitions, examples, and ways you can optimize your website in attempts to gain more real estate in the search results.


What tools can be used to study SERP features or your positioning within?
SEMrush Position Tracking
SEMrush's Position Tracking Tool can help you get a broad picture of SERPs for the keywords you're focusing on and quickly discover:
Keywords you're tracking that trigger a SERP feature
The types of SERP features triggered for these keywords
Whether a domain is present in that SERP feature
The particular SERP for a keyword
Moz Keyword Explorer
Moz's keyword research tool considers the Featured Snippet (if present for a particular keyword) to be position #1 in the SERPs.
If your site wins the Featured Snippet, your rank will be reported as #1
The Featured Snippet will be designated with a scissors icon next to the rank
Moz provides a deep level of SERP tracking technology, with their integration with STAT
Ahrefs Rank Tracker
In Ahrefs' Site Explorer and Rank Tracker, you can sort the keywords you're tracking with the "SERP Features" filter.
If the SERP feature is available for a particular query, but your site is not featured, it will display a gray icon
If your website ranks for the SERP feature, it will be displayed as a blue icon
Other SEO Tools
Many other SEO tools offer the ability to track SERP features and their influence on keyword rankings such as BrightEdge's Daily Pulse, Conductor's Keyword Performance, and Mangools' SERP Checker.
How do these features and their resulting SERPs differ on mobile vs. desktop?
According to a 2021 study done by SEMrush, desktop users were "twice as likely to get a Google ad and a Featured Snippet, whilst mobile users saw 12.5X more images and 3X more videos in organic search."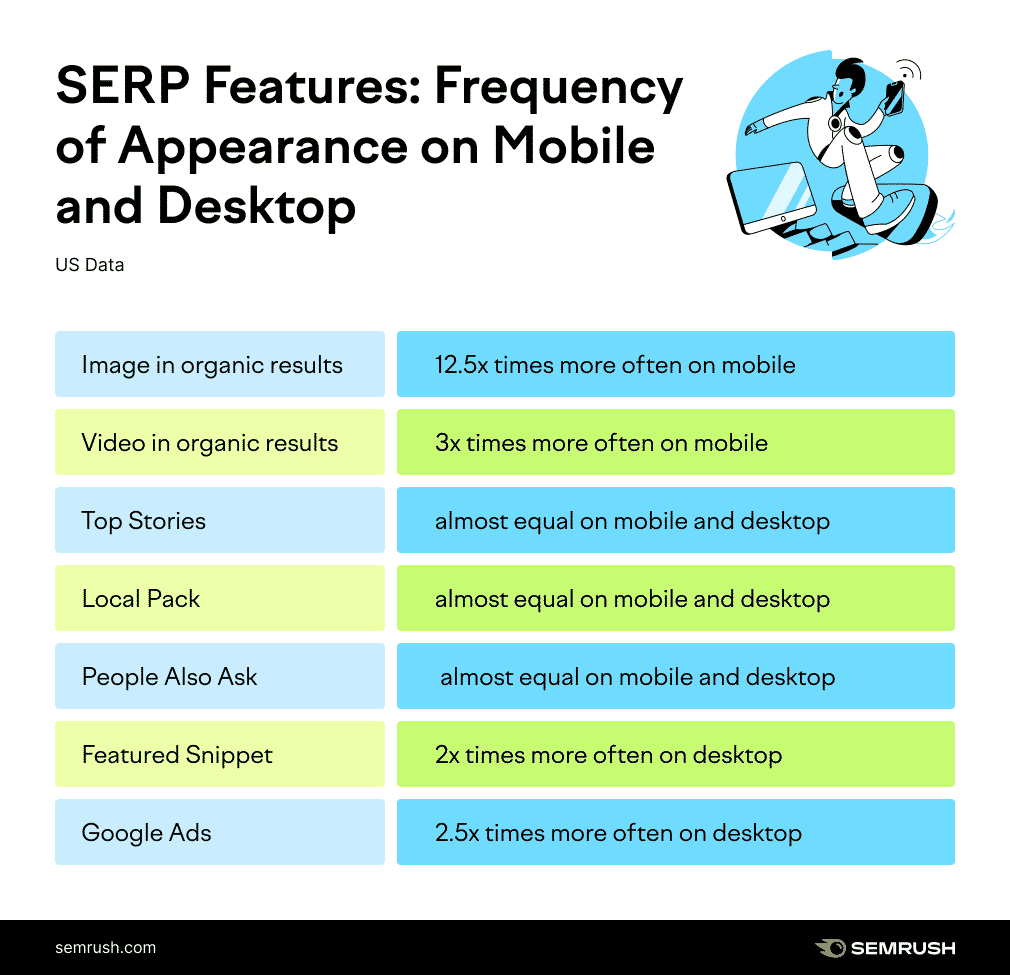 How does the user's intent and environment factor into determining how these results pages vary?
Search results vary from person-to-person, location-to-location. Variables such as if you are signed into a Google account (i.e. Gmail, YouTube, etc.), and where you are physically located, influence the types of results you get.
What is a Featured Snippet?
A Featured Snippet is essentially a snippet of text or an excerpt that answers a specific search query on Google. The Featured Snippet aims to give users a short and concise answer to their question without forcing them to click on specific results.
Where are Featured Snippets displayed and how many search results have one?
Featured Snippets are displayed above the organic search results and currently, roughly 10% of search results have a Featured Snippet, though this figure fluctuates as Google makes changes to its ranking algorithm.
Here is an example of a Featured Snippet:
You'll see it's the rich "card" that appears above the organic listings (and above the People Also Ask section in this particular result).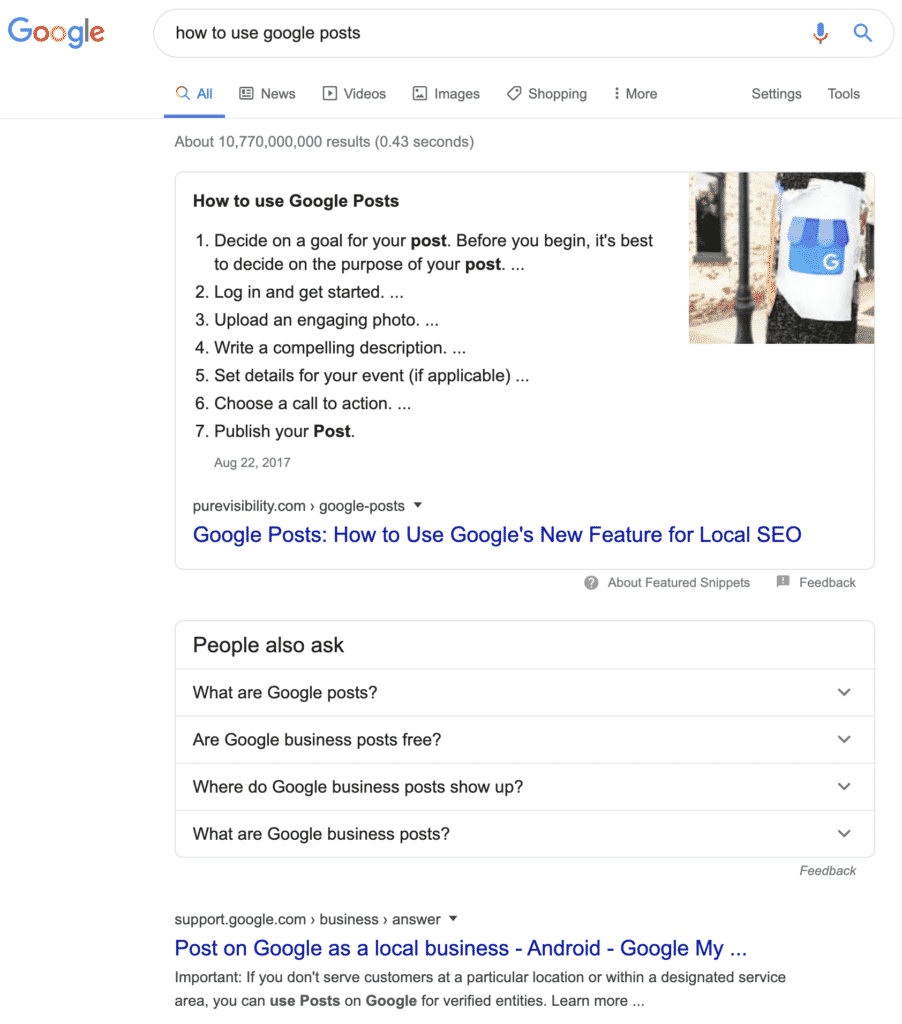 How do Featured Snippets affect voice search?
When you perform a voice search on an Alexa-enabled device or Google Assistant the Featured Snippet is the answer that your device reads back to you over 40% of the time. This is vital, since these devices only give you one answer (vs. a list of ten in traditional search results). So, if you don't rank in the Featured Snippet, you'll be "invisible" on voice-enabled devices.
Aleyda Solis has a great #CrawlingMondays episode where she breaks down voice search:
How to optimize content to get into SERP Features
Here is how you can optimize your content and mark up your code to give yourself a good chance of being featured.
Google seems to love well-structured content. You can use regular HTML formatting tags such as ordered and unordered lists (<ol>, <ul>) and tables (<table>).
Put the question you're trying to rank for as a subheading on your page, and then directly answer that question in a concise way. Elaborate further down in the article.
Write an in-depth article that covers similar questions or related topics vs. writing many short articles targeting each individual question.
Follow other SEO best practices such as fast loading page speed, building backlinks and fixing crawl errors.
What is the Local Pack?
The Local Pack, sometimes referred to as the Map Pack or Local 3-Pack, is an embedded Maps listing with the top 3 places displayed related to the user's search query. In the past, this was known as the "7-pack" or "snack pack" and now sometimes as the local 3-pack.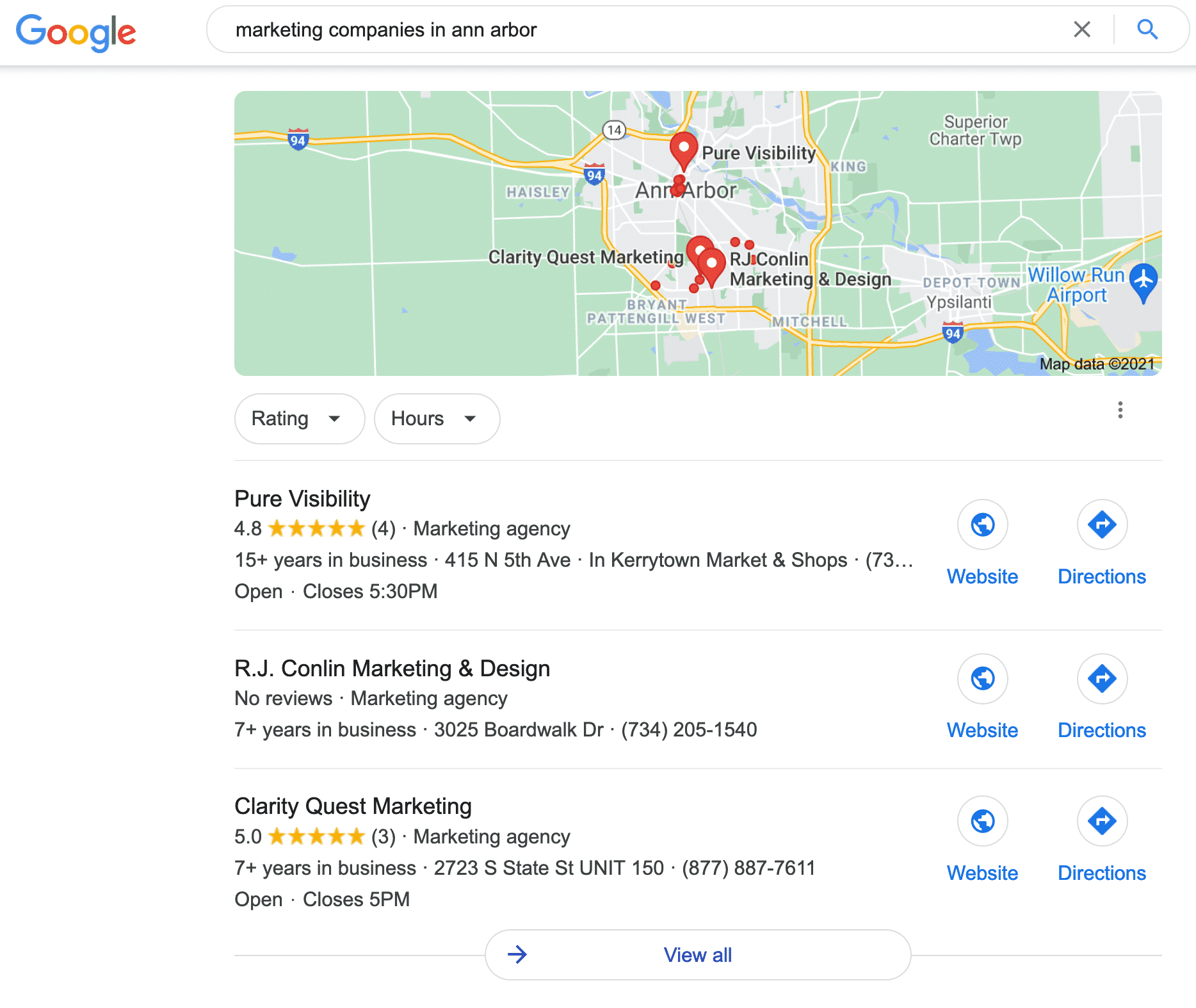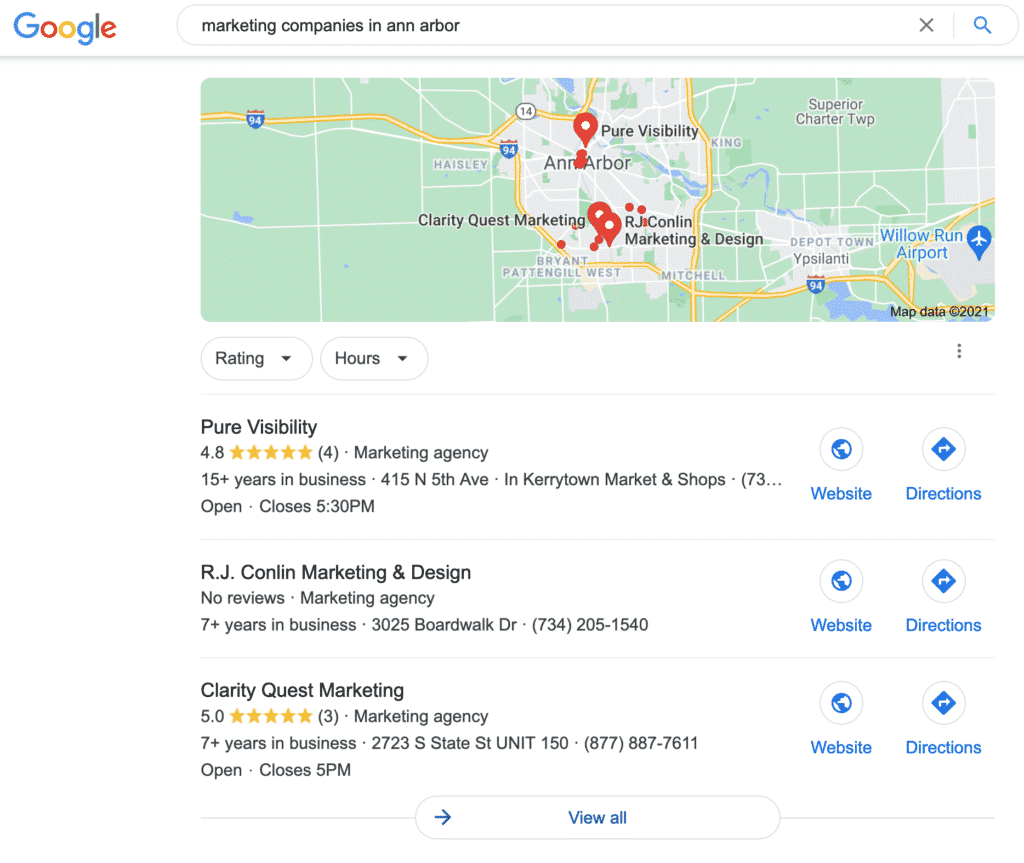 As you can imagine, there used to be more businesses or places listed in this section. Google has conducted different tests and modified the Local Pack according to user interaction, satisfaction, and its own business needs. For some searches, you'll see a sponsored Ad listing at the top of the list, extending this section to 4 results.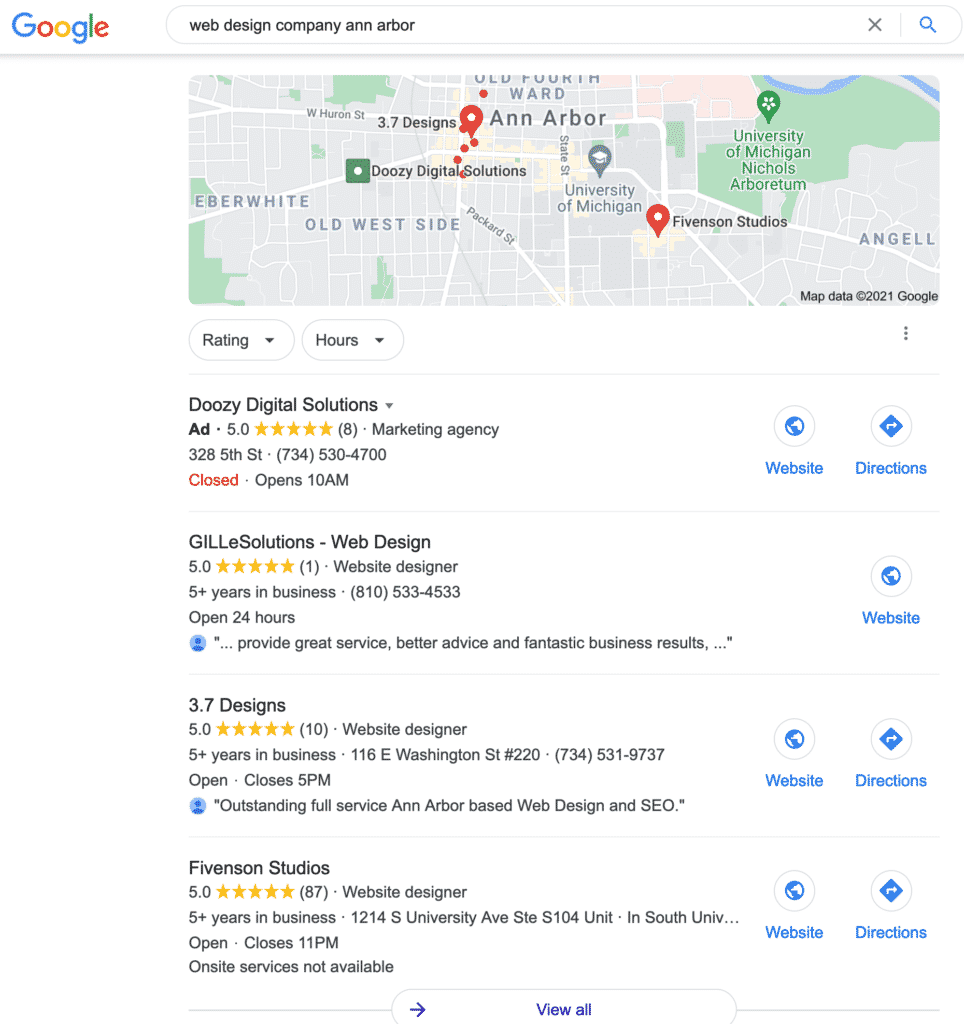 The Local Pack SERP feature is based on the user's search query and geographical location.
Local SEO can be traced back to the early days of SEO (2003-2005) when search engines tried to help connect users with valuable information near them through maps, locations, store hours, and mobile results.
Currently, roughly 19% of search results have a Local Pack in the SERP.
How Google determines local ranking
Google states that local results are based on three factors:
Relevance
Distance
Prominence
Relevance
"Relevance refers to how well a local listing matches what someone is searching for. Adding complete and detailed business information can help Google better understand your business and match your listing to relevant searches."
Distance
"Just like it sounds–how far is each potential search result from the location term used in a search? If a user doesn't specify a location in their search, Google will calculate distance based on what's known about their location."
Prominence
"Prominence refers to how well-known a business is. Some places are more prominent in the offline world, and search results try to reflect this in local ranking. For example, famous museums, landmark hotels, or well-known store brands that are familiar to many people are also likely to be prominent in local search results.
Prominence is also based on information that Google has about a business from across the web (like links, articles, and directories). Google review count and score are factored into local search ranking: more reviews and positive ratings will probably improve a business's local ranking. Your position in web results is also a factor, so SEO best practices also apply to local search optimization."
According to Google, "There's no way to request or pay for a better local ranking on Google. We do our best to keep the details of the search algorithm confidential to make the ranking system as fair as possible for everyone."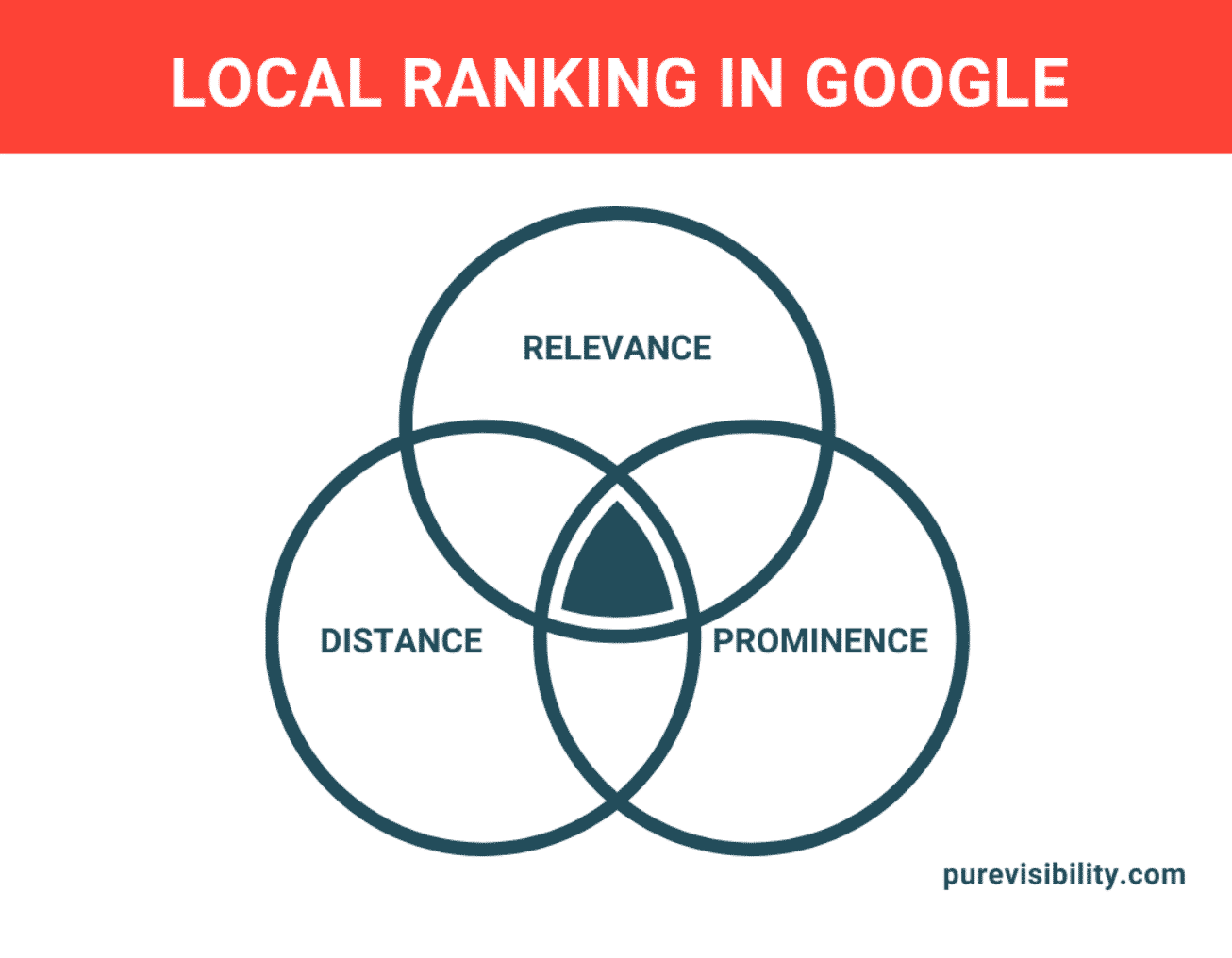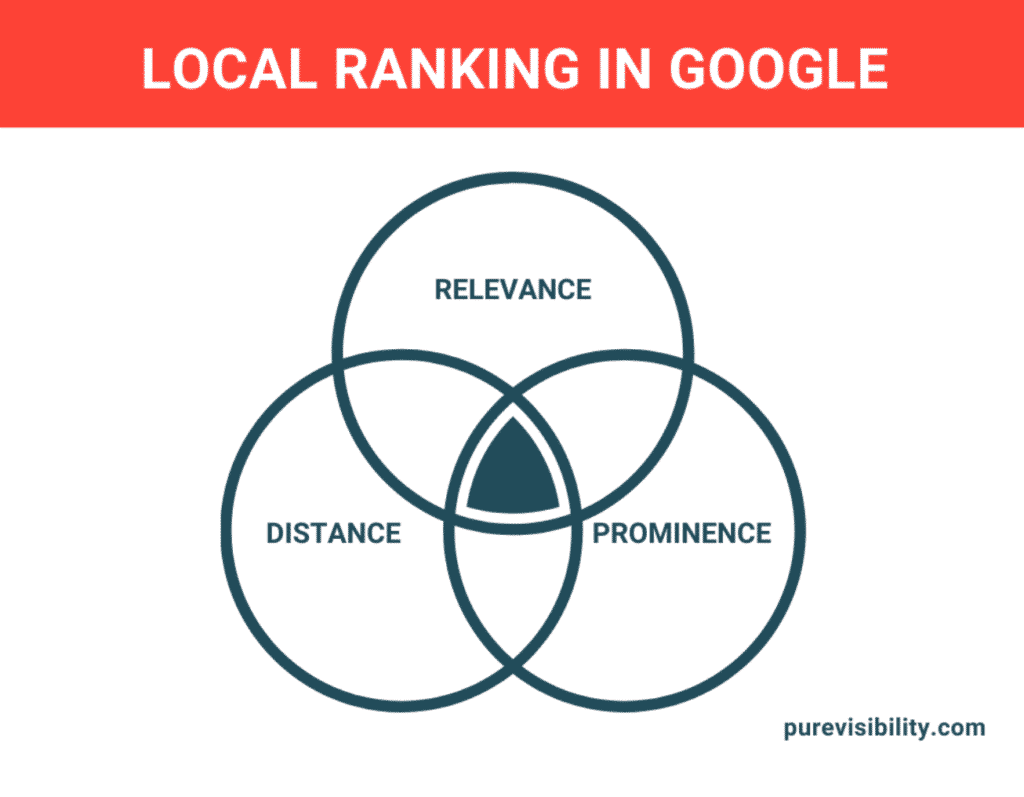 How can I optimize my local listings?
Google has a separate algorithm for determining results and rank in local search. There are a number of significant local SEO factors that come into play and have a direct impact on whether or not your business shows up in local search results, and where.
Having a verified Google Business Profile profile with opening hours, photos, reviews (quantity and quality) and proper business categorization
Proper categorization in other business directories (chambers of commerce, local listings, review sites)
Consistency of NAP citations (name, address, phone number) of the business on local listings as well as that information being crawlable on the business website
Backlinks
Schema structured data with local markup (i.e. LocalBusiness)
Read more about optimizing your Google Business Profile profile to improve your local SEO:
And if you aren't already using Google Posts, we have a blog post you will find useful.
What are Google Shopping results?
Google Shopping results, also known as Product Listing Ads or PLAs, are displayed for certain product queries. These are product image advertisements that you can set up through the Google Shopping network.

While these are technically a type of advertisement and not a "SERP feature", we still include them here because of their significant impact on organic listings and the resulting SERP.
Currently, roughly 2% of search results have Shopping Ads.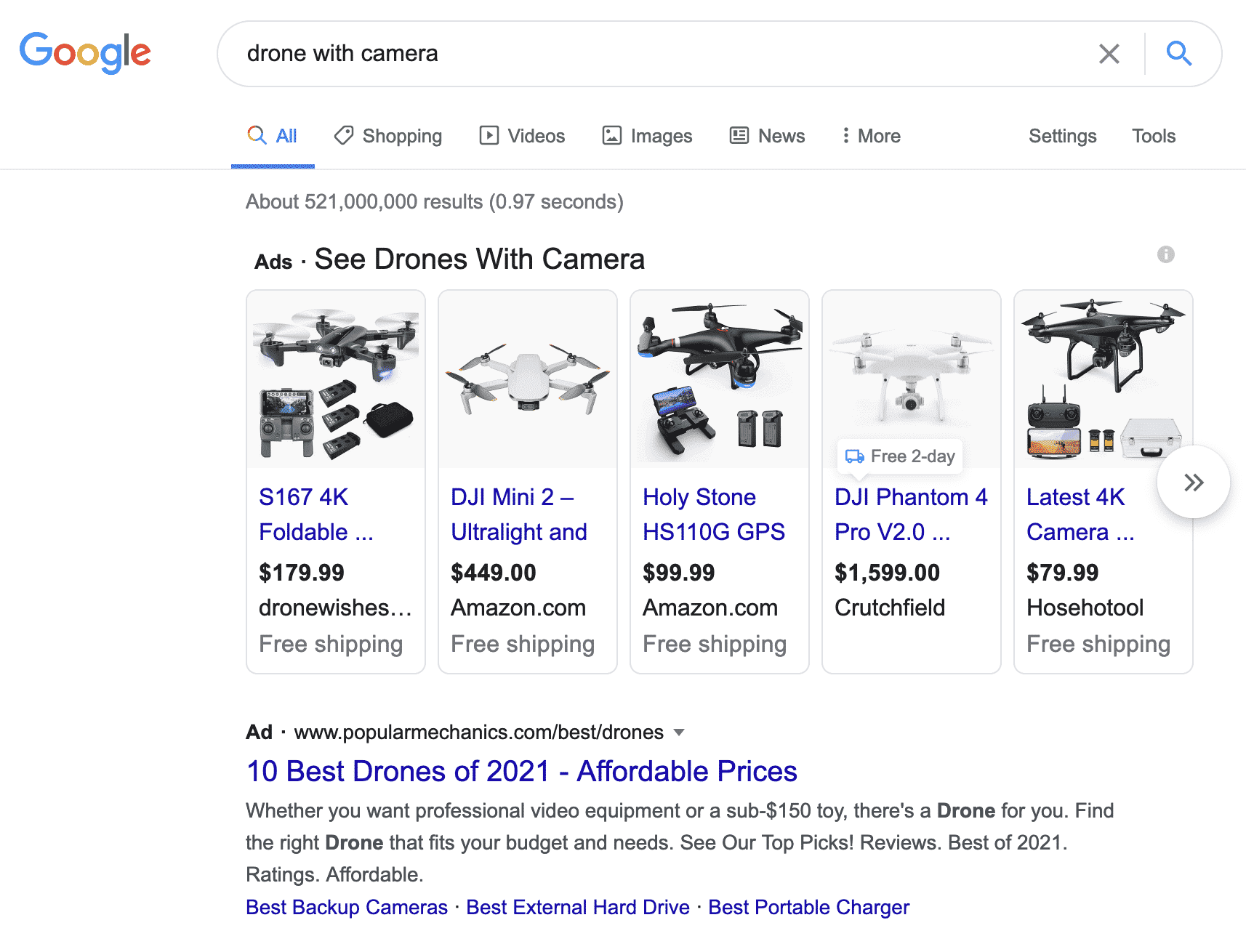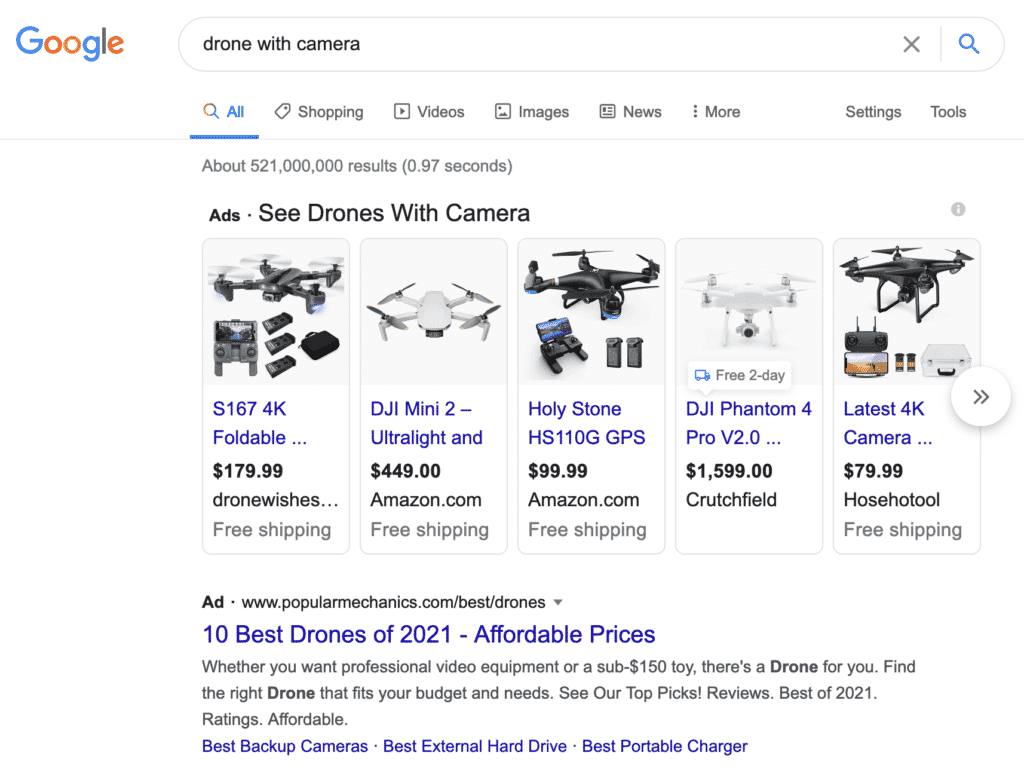 How to optimize for Google Shopping results?
You can't really optimize your website for Google Shopping, but, since it is a form of advertisement, you can bid on terms and invest resources into this channel.
Paid search ads consistently see the highest rate of conversions by traffic source, resulting in 150% more conversions than organic search.
From an organic search perspective, keep an eye on the types of SERP features that show up when you're doing keyword research for content. If there are Product Listing Ads for your search term you may have a difficult time gaining traffic (even if you rank on Page 1).
What are Knowledge Cards?
A Knowledge Card appears when Google determines the user is looking for specific information and can provide that information in a short, concise, and definitive answer.
This feature appears right at the top of the page.
Here's an example: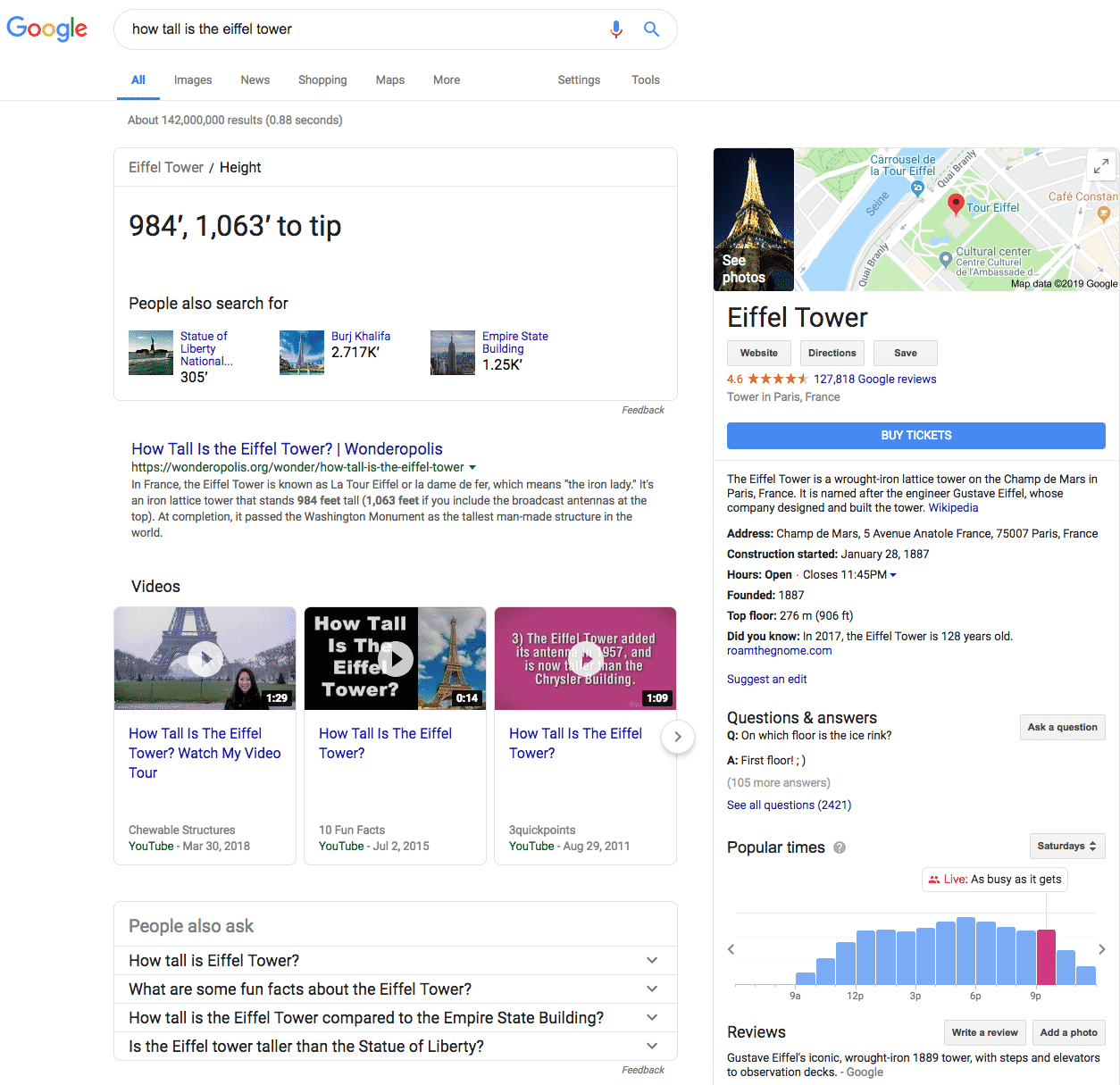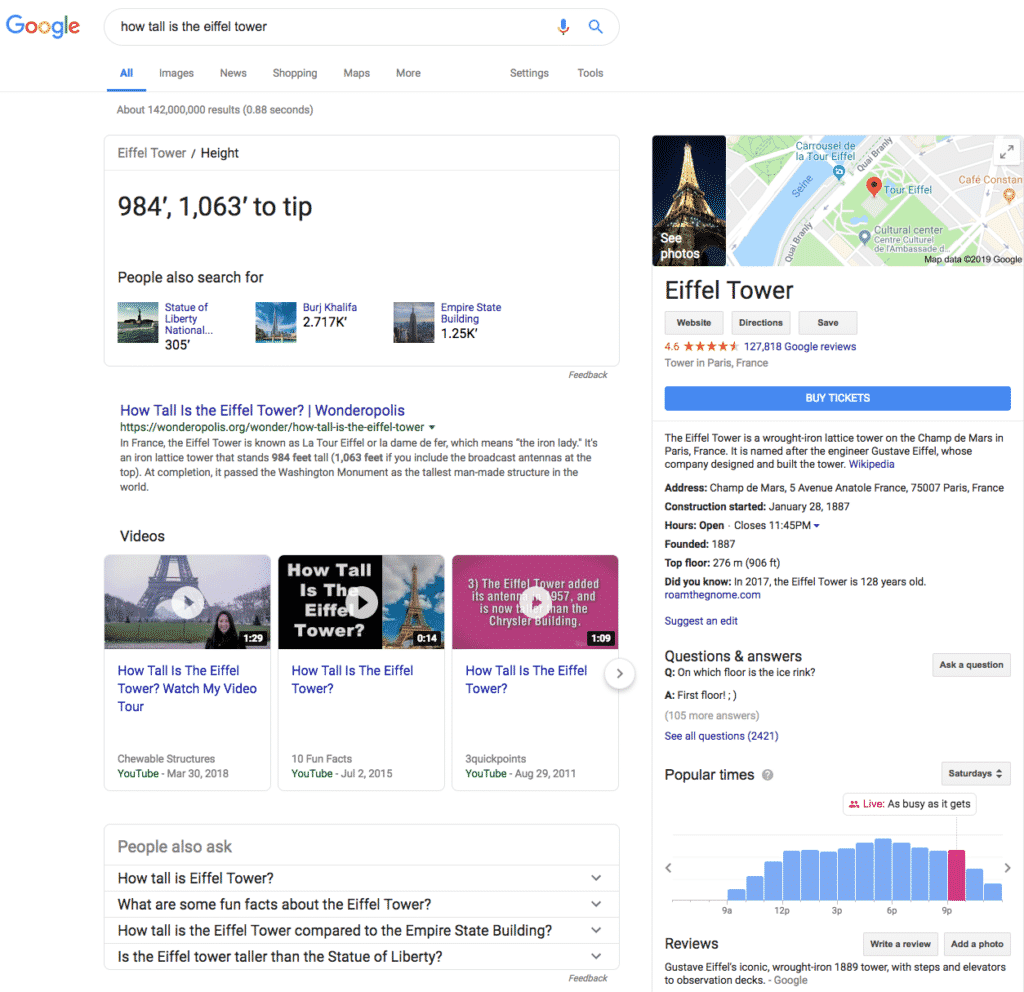 What are Instant Answers?
An Instant Answer is a result that pops up when Google can provide a quick answer to the search query. The results are pulled from Google's Knowledge Graph and offer the user a direct answer to their question.
This saves the user time by eliminating the need to scroll and review the search results and make a decision on which link to click.
Instant Answers are different from Google Suggest (aka Google Instant, or Autocomplete), which has been a feature since 2008, which attempts to finish the user's sentence for them, and display the answer instantly.

It is estimated that 5% of search queries result in an Instant Answer.
What is the Knowledge Panel?
The Knowledge Panel is a rich card that appears on the right-hand side of the search results page. You've probably come across these when you search for a movie actor or other famous person, place or thing. Knowledge Panels also exist for most businesses and brands and differ from a Featured Snippet since they are driven from human-edited sources such as Wikipedia.
The Knowledge Graph
The Knowledge Graph is a knowledge base used by Google to enhance the search results with relevant information displayed in an "infobox" in the SERPs.
This infobox is displayed on the right-hand side of the SERPs, or on top on mobile, and is also used to answer voice questions in Google Assistant and Google Home voice queries.
Most times, this information is pulled directly from Wikipedia, and when initially released, Google received criticism for not providing source attribution or citation.
These Knowledge Graph infoboxes, or "knowledge panels" as more commonly referred to, were first added to the Google SERPs in 2012, growing significantly after launch, nearly tripling in size those first few months.
Things, Not Strings
Google stated "the Knowledge Graph makes Google Search more intelligent—your results are more relevant because we understand these entities, and the nuances in their meaning, the way you do."
What are Top Stories or News Stories?
Top Stories are a section block of news articles, relevant to the user's search query. They usually are displayed at the top of the SERP, or within the top half of results.
In order to be featured in the Top Stories, you need to have AMP pages along with the Article structured data element. In addition, your content needs to be timely, high-quality, and adhere to GNews Content Policies.
Read more about markup for news.
Currently, roughly 8% of search results have Top Stories.
What are Top Ads?
Ads top
Technically, these results aren't organic features, but they can take up to the first four positions of the SERP, and are therefore valuable real estate for search marketing professionals. Google Ads appearing at the top of a results page is a strong indication of a highly competitive keyword (for both paid and organic search).
What are Bottom Ads?
Ads bottom
Usually, Google Ads are displayed at the top of the SERP, where the majority of attention is paid. But, they can also be displayed at the bottom of the search results page, if there is enough demand around the keyword and enough advertisers bidding on these terms.
What is the Carousel in SERPs?
Image Carousel
The Image Carousel is a row of images which usually appears at the top of the SERP. You can scroll or click through the carousel to view the entirety of the list. Each image has text or brief information about the item.
Video Carousel
Video Carousels are very similar to Image Carousels. They usually appear towards the top of the search results, but can also be further down the page. They're a list of videos relevant to the user's search query, with the video's title, channel name, and upload date. On mobile, they take up more space than desktop, and having your video featured in this SERP feature will expose it to greater visibility.
What is the People Also Ask section?
People Also Ask (PAA) is a section of related questions to the search query a user has typed in. The PAA section appears as a list of dropdowns, which, as you click to open them to read the answer, expands to include additional questions related to the topic.
People Also Ask is a great way to understand related queries. These are actual searches that people perform and that Google is associating with the keyphrase that has been searched.
There is a great tool called AlsoAsked, which gives you an organized view of People Also Ask data, showing a breakdown of which questions users are asking about a topic and how those questions are linked together.
What is the Apps Block?
The Apps Block is triggered when you search for a specific app by brand name, or sometimes when searching for an app category.
The Apps Block shows up on mobile devices and can show you a list of apps based on your OS (Android or iOS). If you have a particular app already installed, a hot link/shortcut to open the app.
Example of the Apps block on an Android device.
What are Site Links?
When a user searches for a domain (or business or organization) they will usually see the sitelinks SERP feature – a breakdown of internal pages within the main website, pointing a user to related areas or some of the more popular pages on a website.
What are Featured Images in SERPs?
Featured Images
Featured images in Google search results are a group of images usually displayed at the top of the search results page. For certain keywords, Google will determine if image results would be more relevant to the query than text results.
Image Results
Image results are simply thumbnail images which are displayed along with other organic results.
Image Pack
The Image pack is a group of images displayed when Google determines visual results would benefit searchers. The Image Pack is quite similar to Featured Images, though these image results can appear in any position in the SERP, whereas Featured Images are the grouping of images at the top row of search results.
Tweets in search results
Twitter cards can appear about a third of the way down the page and will usually display the most recent, relevant, or trending tweets related to the search query or brand/entity.

Tweets in this SERP feature can appear from both verified and unverified accounts.
Reviews in search results
Reviews
For search queries around a brand, business or organization, Google will sometimes display reviews in the search results. You'll see star ratings under the website's result if the business has received Google reviews. These are different from product reviews and ratings.
Reviews show up quite often in the search results, currently around 50% of the time.
Video Results in the SERPs
Featured Video
Featured Videos in the search results are similar to Featured Images, as they appear at the top of the SERP. Featured Videos stand out more than regular video results, since they are displayed as the first listing, or in the first row, whereas regular video results can appear in any position in the results.
Video
Videos will be displayed when Google determines that users expect this format for their given search query. Users will see a thumbnail of the video and a link to view it (usually on YouTube).
Video results are in about 5% of SERPs.
What is AMP?
Accelerated Mobile Pages (AMP)
Accelerated Mobile Pages, or AMP, are light-weight versions of webpages specifically designed to render quickly and efficiently on mobile devices. They're usually much faster to load than non-AMP pages. While these are technically not SERP features, they are labeled in the search results with a lightning bolt icon that indicates to searchers that the page is fast and easy to browse on mobile. Having AMP pages can increase the likelihood of getting into some SERP features, such as Visual Stories.
Frequently Asked Questions (FAQ)
The FAQ SERP feature is a list of questions related to a specific search query. They are displayed as "accordions", so when a user clicks on the question, it expands to show the answer.
Jobs Search
Jobs Search
This SERP feature is exactly what it sounds like. For certain search queries, Google will trigger the Jobs Search functionality (see image below).
The Jobs Search SERP feature, sometimes called an enriched search result, will list positions including job title, the company offering the job, the website where the listing was posted, and other information such as location, full-time vs. part-time, degree requirements, etc.
Medical / Vertical Card
The Medical Card, or Vertical Card, in the SERPs display specific information about a particular disease or condition. These panels include quick information for users about the diseases, its common symptoms, treatments and other relevant information users usually seek out.
According to Google, "medical information on Google comes from high-quality websites, medical professionals, and search results."
Read more about their process for analyzing health-related information, including a team of doctors who review and refine the information.
Events Schema
An event, as defined by Schema.org, is a "happening at a certain time and location, such as a concert, lecture, or festival."
Events through Google's search results provide more interactive results for users, as well as increased chances of discovery and conversion.
Read more about how to get your event on Google.
Flights
Flights are a section in search results that help make it easier for users to find relevant information for planning a flight. Some may see this as direct competition to websites such as Kayak, Expedia, and Priceline.
The Flight results include all the relevant information you'd expect: flight dates, durations, number of transfers, prices, and airline. This data is pulled directly from Google Flights.
Recipes
The Recipes SERP feature is displayed on many searches related to food. These render as three rich cards on desktop search results, with options to load more. Each card includes an image, name of recipe, reviews, and other information such as how long it takes to cook, ingredients and more.
On mobile devices, these recipes are shown in an image carousel. Recipes are taken from the top organic results, and when clicked, the card will take the user to the website where the recipe originated from.
How often does the search results page have a particular SERP feature?
SEMRush's Sensor not only tracks the percentage of SERP features occurrences, but is also a useful tool to keep track of volatility in the SERPs.
The percentage of SERPs where a particular feature appears can change every month, as Google releases new tweaks or updates to its algorithm, and incorporates user feedback and perceived user experience into the search results.
As of February 27th, 2021 (looking at the previous 30 days), SEMrush reports the following:
There have been some major changes over the past year or so, most notably around the amount of SERPs that have a Featured Snippet.
SERPs and the rise of the Zero Click Result
Also to be noted is the idea of the Zero Click Result, which essentially measures the amount of search queries which result in the user reading the information within the Google search result, choosing not to click through to a particular website.
The images below show how the percentage of SERP features has changed from March 30th, 2020 vs. May 20th, 2021.
*Below image as of March 30th, 2020
*Below image as of May 20, 2021
How to Apply This Knowledge To Your Own Website
How can you structure your website content to take advantage of these SERP features?
Schema markup or structured data
Use multiple forms or types of content (text, image, video, combination of short and long sentences/paragraphs, using content formatting such as bullet points, lists, tables, etc.)
Have a fast loading, well-designed website
Solve user problems (provide valuable/useful/actionable information) will help.
What Is the Future of the SERP?
What does the future hold? What new SERP features is Google testing or have plans for on the horizon? How far will it go? What are your SEO predictions for the future (of search behavior)?
"The only constant in life is change." – Heraclitus
We know that Google and other search engines are constantly working to improve their search algorithms, to adapt to shifting user behavior (and to increase their own bottom line).
We can assume, since Google has been saying it for decades, that as long as we continue to put our website visitors or customers at the center of all our marketing decisions, providing the information they seek out, in language and formatting that will resonate with them, our website can continue to gain visibility in the SERPs, resulting in a consistent flow of traffic from search.
How to optimize for a better chance to get into rich results aka SERP features?
In summary, if you take action on the below recommendations, you should be able to increase organic visibility, provide useful and valuable content to your users, and satisfy even the pickiest of search bots and crawlers to optimize your site for the most common SERP features:
Use Schema markup on your webpage content
Make sure your website loads quickly and renders properly on all devices
Check your Page Experience (Core Web Vitals) metrics in Google Search Console
Format and layout your page content based on best practices

Use headings and subheadings
Use lists and bullets
Break up long sections of content with images or video