In today's digital world, being visible online is critical to your marketing success. According to BrightEdge, 53% of web traffic comes through organic searches and 15% through paid efforts, so maximizing your visibility in the search results is key. To do that, you'll need a strong website, well-written content, and digital advertising — but what if you can't handle all of your digital marketing efforts internally?
There are many digital marketing companies you can outsource this work to, but finding the right company (and at the right cost) can be tricky. Marketers unfamiliar with these services may be unsure how digital marketing pricing works and how to get the most out of their budget. There are a number of factors you will need to consider when outsourcing your digital marketing, including who is doing the work, their level of expertise, and the services being rendered. Here's what you need to know about digital marketing pricing:
What is digital marketing?
Digital marketing refers to marketing strategies and tactics that take place online, such as search engine optimization (SEO), pay-per-click advertising (PPC), social media management, and email marketing. These efforts help you become more visible online, often with the intention of driving traffic to your website. Understanding how these digital marketing services work — and how they support each other — is an important first step in deciding how to best allocate your resources.
In this article we will be focusing on SEO and PPC, which are both an important foundation of your online visibility. For more information, read our blog post on how SEO and PPC work together.
How much should you spend on digital marketing?
Some level of digital marketing can be done at almost every budget. But whether or not that budget is appropriate depends on your goals, your industry, the services you're using, and who you're hiring to do the work. Businesses that limit campaign targeting, for example, are more likely to find success with smaller budgets, while companies interested in large-scale campaigns or comprehensive strategies should expect to pay more.
What factors influence digital marketing pricing?
There are a number of variables that influence how much you should pay for digital marketing services. These include:
The type of services (and sub-services) you need

SEO (technical audit, content marketing, link building)
PPC (Google Ads, Microsoft Advertising, Amazon ads)

The person or company you are hiring to do the work (and their level of expertise)
The competitiveness of your industry
Let's break down a few areas to consider when approaching digital marketing pricing:
Industry
Some industries are more competitive in the digital space than others, and you will need to adjust your budget accordingly. Lawyers, marketing professionals, and those in the medical field can all expect to pay more; the legal industry, for example, has some of the highest cost-per-click (CPC) keywords. According to HubSpot, the average CPC is $6.45, and can top out at a whopping $1090.
This means that lawyers using Google Ads will pay an estimated $6.45 for each click to their website, with the potential to go much higher. For example, HubSpot says that "truck accident lawyer dallas," will cost you $425 per click, while "best motorcycle accident lawyer," can be as much as $770.
The takeaway? Competitive industries will need significantly larger digital advertising budgets if they want their ads to appear in the search results. Companies in highly competitive industries should also expect a slower return on their SEO efforts, as keywords with a high advertising cost-per-click also tend to be harder to rank for organically.
You can use a tool like Ahrefs Keywords Explorer to see the estimated CPC for a keyword as well as the difficulty of ranking organically.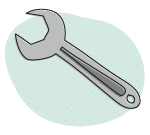 Freelancer vs agency
Freelance digital marketers tend to be less expensive than agencies, but may not have the resources or staff of a larger company. When evaluating a digital marketing provider, you will want to consider not only the cost, but their expertise and the level of oversight required on your project.
For example, some freelancers are highly specialized, and can provide a specific skill set or services that a traditional marketing agency may not. Additionally, freelancers can often be more flexible with their timing and the type of project they take on. (This is especially true with one-off or short-term projects.)
Agencies, on the other hand, tend to have a predetermined pricing structure and set of services that they offer. These engagements typically involve a dedicated team of experts that is coordinated by a project manager, who also acts as your liaison throughout the engagement.
Level of expertise
When it comes to expertise, you obviously want someone who is knowledgeable enough to be successful — but we all know good work doesn't come cheap. More experienced marketers will charge more for their expertise, and you're likely to get a more personalized experience (and better results) because of it.
This doesn't mean good digital marketing has to break the bank, but you should steer clear of too-good-to-be-true prices. Companies who charge significantly less than their competitors are a red flag, and may be cutting corners to deliver less-than-stellar results. This is especially true in SEO, where unscrupulous providers use "black hat" tactics like buying backlinks to temporarily boost your rankings, while also putting you at risk for harsh penalties from Google.
To strike a balance that works for your budget, look for freelancers or agencies in your price range that demonstrate their expertise through recent case studies, certifications, and positive reviews. Ideally, you will also work with someone who has direct experience in your industry and is familiar with its unique challenges.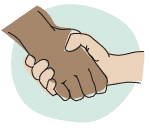 Services provided
The number and type of digital marketing services provided are some of the most significant costs when considering pricing. Are you doing just SEO? Just PPC? A multi-channel campaign? The more services you ask for the more resources digital marketers will need, and you'll be charged accordingly.
SEO
Search engine optimization, or SEO, involves the strategic use of a variety of specialized tactics, including keyword research, on-page optimization, link building, and both technical and content optimization, to drive qualified traffic to a website by improving its organic (non-paid) rankings in search results.
SEO is used to achieve better rankings in the search results, which drives more qualified traffic and leads.
PPC
According to Search Engine Journal, "Pay-per-click (PPC) is an advertising model that lets marketers place ads on an ad platform and pay the host of that platform every time their ad is clicked." PPC can encompass a wide range of paid digital marketing efforts, including search advertising, social media advertising, and video advertising.
How much does SEO cost?
According to Direction, "The majority of SEO campaigns from leading agencies in 2020 cost between $1,500-$10,000/month, with a 6-month contract being the typical agreement."
Digital marketing agencies often bundle their SEO services into packages, or bill by the hour. Because of this, companies with small websites can likely get away with paying on the lower end of this range because there is often less work to be done — but you don't want to go too cheap.
Although 71% of small businesses spent less than $100 a month on SEO services, this range tends to attract "SEO spammers," who can "virtually wipe out a website's visibility on the web" with tactics that violate Google Webmaster Guidelines. If it sounds too good to be true, it likely is!
At Pure Visibility, our SEO packages range from $3,000-$5,000 a month. Each package starts with a comprehensive SEO audit to identify and prioritize the tasks that will make up our larger SEO strategy, and contains a certain number of hours per month. This ensures our time is used as effectively as possible to not only maximize our clients' budget but also their results.Unsure if SEO is right for you? Read our blog post, Is SEO worth it?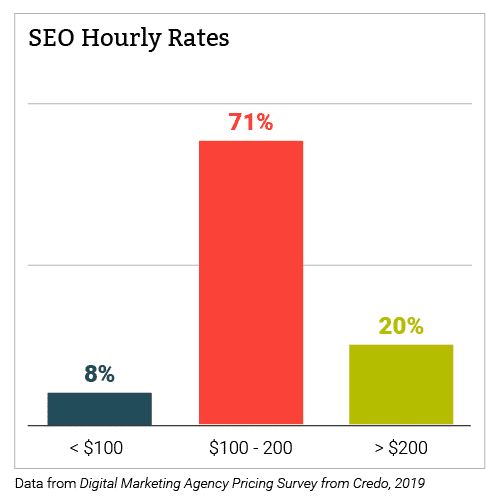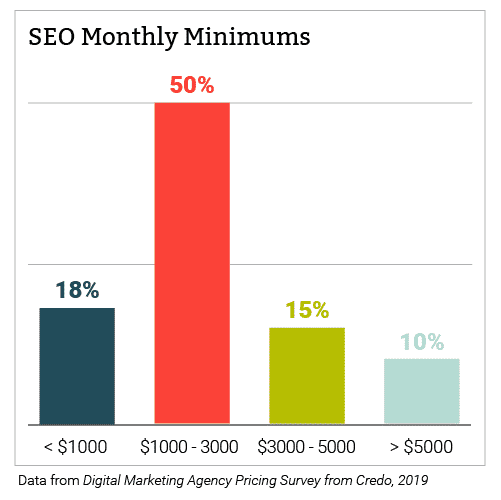 How much does PPC cost?
How much PPC services will cost depends on a number of factors, including the advertising platform(s) you use, competitiveness and cost of the keywords you're bidding on, number of campaigns you're running, and how broad your targeting is.
As we mentioned, some industries have more expensive keywords that will raise your overall ad spend. (The money you pay directly to the advertising platform to run your ads). You will also need to pay your PPC consultant to manage your campaign(s), which can vary depending on their pricing structure.
How is PPC management priced?
According to CallRail, PPC consultants and agencies use a variety of pricing models to charge for their work:
Percentage of monthly ad spend. PPC managers typically want between 15-30% of ad spend, with most charging upwards of 20%.
Percentage of monthly ad spend, plus a management fee. In addition to the percentage of ad spend, some companies also charge a monthly management fee. This management fee can range between $500-$5,000 a month.
Flat fee. The agency or consultant will charge a flat fee based on the scope of work.
In addition to these pricing structures, CallRail notes that setup fees are also common. At Pure Visibility, our setup fee ensures that your ad account(s) and analytics have been properly configured to provide meaningful data, and covers the time it takes to build, target, and launch your campaigns.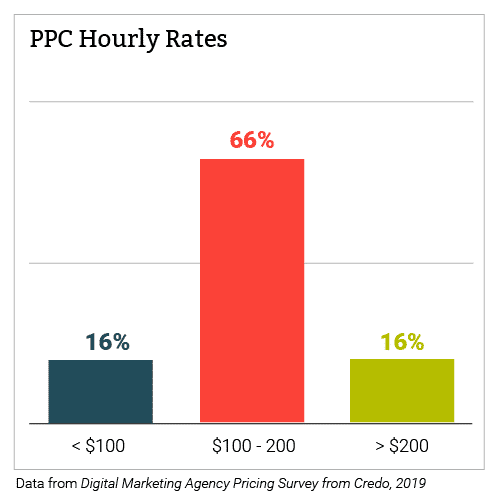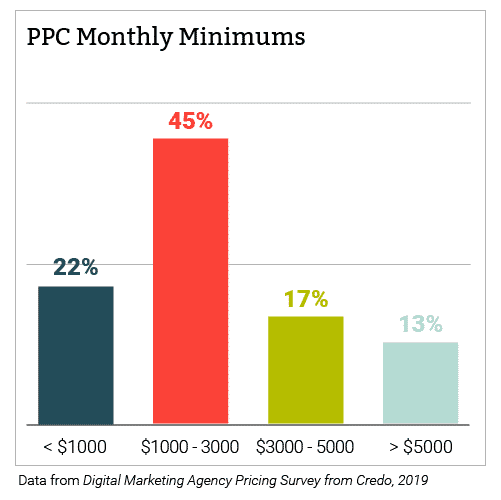 Finding the best digital marketing pricing
Your digital marketing budget largely depends on your goals, industry, and the consultant or company you are hiring. Understanding how digital marketing pricing works will help you set a realistic budget and know what you will need to pay to move the needle on your online visibility.